Choc Chip Chocolate Stuffed Muffins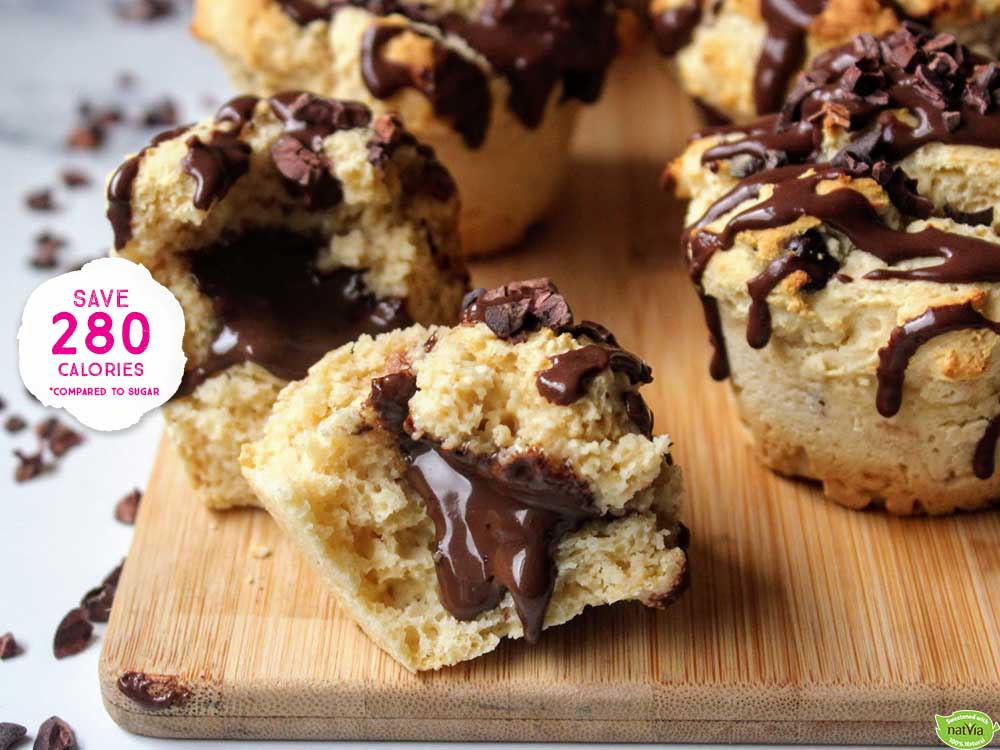 Recipe by
SpamellaB
How can you say no to double chocolate! And better yet its sugar-free! These Choc Chip Chocolate Muffins are a sure fire way to get your taste buds tingling! Liked this recipe? SAVE it to your collection. You can find more sugar-free recipes like this one and more over on our Youtube at Healthy Treats.
Serves: 6
Prep: 15 Minutes
Cook: 20-25 Minutes
Ingredients
250 g Flour, gluten-free
2 tablespoon Vegan Vanilla Protein Powder
50 g Natvia
1 teaspoon Baking Powder
100 mls Oil of choice
75 mls Milk of choice
1 Egg or Flax egg
1 teaspoon Vanilla Extract
75 g Dark Chocolate, sugar-free
6 teaspoon Nuttvia
TO DRIZZLE:
2 tablespoon Cacao or Cocoa Powder
2 tablespoon Natvia
1 tablespoon Coconut Oil, melted
2 tablespoon Milk of choice
Method
Preheat the oven to 180C and lightly grease a 6-hole muffin tin.
Mix together the flour, protein powder, Natvia and baking powder in a bowl.
Whisk together the oil, milk, egg and vanilla extract then pour into the bowl along with the chocolate chips and mix well.
Spoon half of the mixture between the muffin holes and make a cavity. Add a teaspoon of Nuttvia in the middle of each. Top all with remaining batter to cover.
Bake for 20-25 minutes until firmed up and risen. Leave to cool then pop out of the tin.
Whisk together the cacao/cocoa powder, Natvia, oil and milk then drizzle over each. Enjoy!
| | | | | | |
| --- | --- | --- | --- | --- | --- |
| Carbs | Pro | Fats | Energy KJ | Calories | Serving size |
| 40.6g | 8.8g | 17g | 1520 | 363 | g |