Blueberry Bakewell Tarts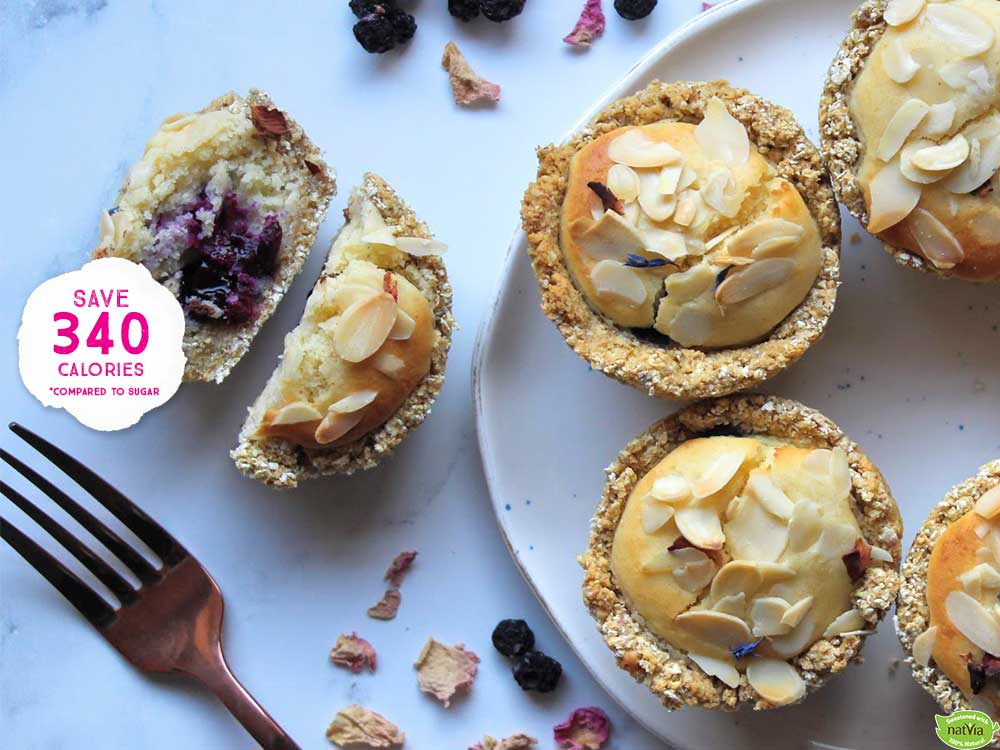 Recipe by
SpamellaB
Try these delicious Blueberry Bakewell Tarts for a guilt free snack this weekend! Liked this recipe? SAVE it to your collection. You can find more sugar-free recipes like this one and more over on our Youtube at Healthy Treats.
Serves: 6
Prep: 15 Minutes
Cook: 15 Minutes
Ingredients
PASTRY CUPS:
150 g Oat Flour
4 tablespoon Coconut Oil, melted
3 tablespoon Natvia
FILLING:
50 g Almonds, ground
50 g Flour, gluten-free
50 g Natvia
1 Egg
2 tablespoon Almond Milk
1 tablespoon Coconut Oil, melted
0.5 teaspoon Almond Extract
75 g Blueberries, frozen
Flaked Almonds
Method
Preheat the oven to 170C and lightly grease a 6-hole muffin tin.
Pulse the oat flour, Natvia and coconut oil to combine then divide into 6 and press across the bottom and up the sides of each. Bake for 5 minutes.
Beat together the ground almonds, flour, Natvia, egg, milk, coconut oil and almond extract.
Arrange 3-4 blueberries at the bottom of each base then spoon over some of the filling mixture to cover each one. Sprinkle with some flaked almonds then bake for 15 minutes until golden brown. Leave to cool, pop out of the tin and enjoy!
| | | | | | |
| --- | --- | --- | --- | --- | --- |
| Carbs | Pro | Fats | Energy KJ | Calories | Serving size |
| 11.6g | 5.9g | 15.7g | 1010 | 241 | 83g |