Cherry Chocolate Cheesecake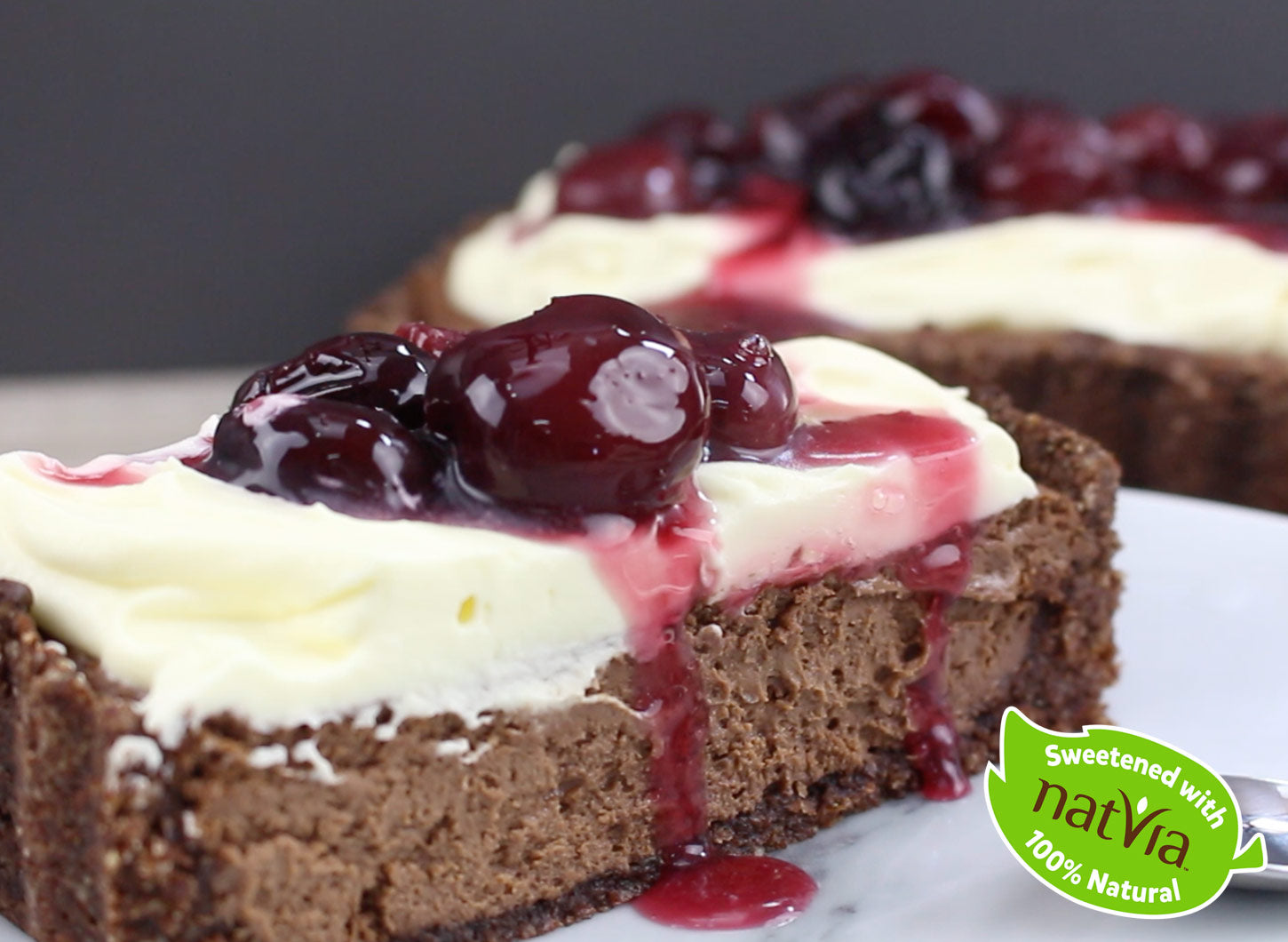 This is a sugar free recipe that is a great way to replace sugar exactly. A Cherry Chocolate Cheesecake recipe alternative made completely without sugar! A super healthy and tasty way to enjoy sugar free recipes, by Natvia. Made with Natvia 100% Natural Sweetener! That's right there is no sugar used in any of our recipes! This sugar free Cherry Chocolate Cheesecake recipe is so easy and simple to make. This is a quick way to make sugar free chocolate cheesecake. You can find more sugar-free recipes like this one and more over on our blog or check out Natvia's archive of dessert videos over at 
Healthy Treats!
Ingredients
300 g Fresh Cherries
1 Cinnamon Stick
5 Cloves
3 Cardamon Pods
0.25 cup Natvia
100 mls Water
2 teaspoon cornflour
1 tablespoon Water
200 g Almond Flour
0.5 teaspoon mixed spice
0 pinch of salt
2 tablespoon cocoa powder
2 tablespoon Natvia
125 g Melted Butter
0.5 teaspoon Vanilla Extract
175 g Sugar Free Dark Chocolate
400 g Cream Cheese
1 cup Natvia
0.5 cup Low Fat Yogurt
1 teaspoon Vanilla Extract
2 Eggs
300 mls Thickened Cream
0.5 teaspoon Vanilla Extract
Method
Start by making the poached cherries. Add 300g fresh cherries to a saucepan, as well as 1 cinnamon stick, 5 cloves, 3 cardamon pods, 1/4 Cup Natvia and 100ml of Water.
Simmer those ingredients over medium-low heat for a few minutes until the mixture has begun to thicken. Drain the sauce once thickened.
In a small seperate bowl, add 2 tsp of cornflour and 1 tbsp of water and whisk together. Add the cornflour and water to the cherry mixture and place it back on the heat in the saucepan and stir for another few mins.
Pour poached cherry sauce into a bowl and cover flat with plastic wrap to the edges of the mixture. Place this cherry mixture in the fridge to chill.Crust:
Add 200g Almond Flour to a new mixing bowl, as well as 1/2 tsp mixed spice, a pinch of salt, 2 tbsp cocoa powder, 2 tbsp Natvia and stir this dry mixture until evenly combined.
Melt 125g butter in a seperate bowl. Add 1/2 tsp Vanilla Extract to the butter and stir.
Add the vanilla butter to the dry mixture and stir until thoroughly combined.
Spread crust into long baking tray and press flat with a spoon or another utensil. Chill crust in the fridge for 30 mins.Filling:
Melt 175g sugar free dark chocolate.
In a large mixing bowl, beat 400g cream cheese, and then add 1 cup Natvia once the mixture has begun to form peaks and valleys.
Add 1/2 cup low fat yogurt, 1 tsp vanilla extract, 2 eggs and use the electric beater to again beat the mixture until thoroughly combined. Add melted chocolate whilst beating.
Stir well and add to the crust mixture and spread evenly.
Bake for 30 - 35 minutes at 150°C.Topping:
Add 300ml thickened cream to a new mixing bowl, as well as 1/2 tsp vanilla extract.
Use an electric whisker to mix thoroughly and then spread the topping over the top of the chocolate cheesecake!
Pour Cherry mixture over the top of the topping!
No nutritional info supplied