Chocolate Mousse Tart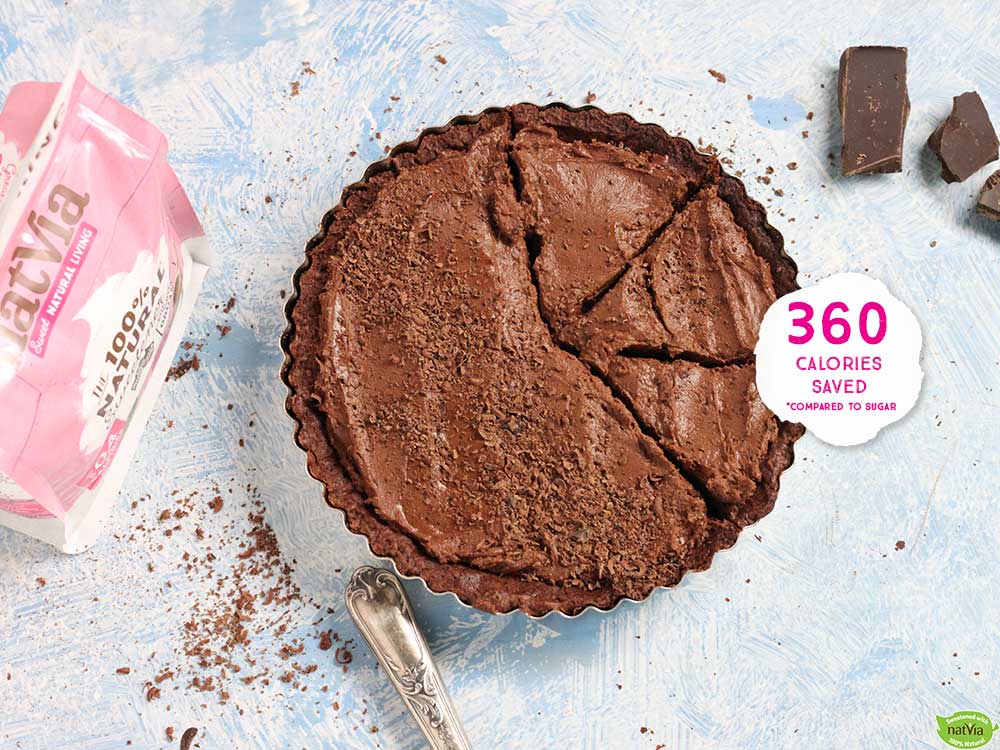 YUM! Looking for something mouthwatering to bake up? We've got just the thing. Dig into this moist Chocolate Mousse Tart, just about everyone will want a slice!
Liked this recipe? SAVE it to your collection. You can find more sugar-free recipes like this one and more over on our Youtube at Healthy Treats. Liked this recipe? SAVE it to your collection
Serves: 12
Prep: 1 1/2 hours
Cook: 20 minutes
Ingredients
Pastry:
150 g plain flour (1 cup )
25 g cacao powder (¼ cup )
50 g Natvia (¼ cup )
100 g unsalted butter, chilled and cubed
0.5 tablespoon vanilla bean paste
2 tablespoon thickened cream
Filling:
150 g dark chocolate, plus extra
1 g egg
1 egg white
50 g Natvia (¼ cup )
1 tablespoon cacao powder
150 mls thickened cream
Method
Combine the flour, cacao, Natvia and butter in a food processor and pulse until it resembles breadcrumbs.
Add the vanilla and cream and pulse until it just looks like it will come together. Pour onto the bench top and bring together quickly with your hands.
Form into a disk and then wrap tightly in plastic before refrigerating for 1 hour.
Make the mousse by melted the dark chocolate in the microwave. Cool. Whisk eggs for 5 minutes until thick and creamy. Add the NAtvia, sift in the cacao and ad the melted cooled chocolate and fold in gently.
Whisk the cream until thick and creamy and then fold the chocolate mixture through until combined and smooth. Cover and refrigerate.
Roll out the pastry to fit a 22cm tart tin. Place the pastry in the greased tart in. Prick holes in the bottom. Place in the freezer for 30 minutes.
Blind bake the pastry crust by lining with baking paper and filling with weights. Bake for 15 minutes at 170C. Remove the weights and bake for a further 10 minutes. Remove from the oven and allow to cool completely.
Fill the cooled crust with the mousse and top with shaved bits of chocolate.
| | | | | | |
| --- | --- | --- | --- | --- | --- |
| Carbs | Pro | Fats | Energy KJ | Calories | Serving size |
| 9.6g | 3.0g | 12.7g | 702 | 168 | 60g |