Coconut Muffins (Cornbread Style)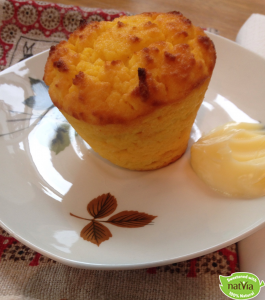 Serves: 8
Prep: 10 Minutes
Cook: 25-30 Minutes
Ingredients
6 tsp

organic coconut manna

1/2 cup/120g

 

Greek yogurt

3 each

Eggs

1 tsp

salt

2 tsp

baking powder

1 tsp

Vanilla Extract

2/3 cup/60g 

coconut flour

1/4 cup/45g 

Natvia Sweetener 

1/4 cup/60ml

 

Almond milk, unsweetened

3 tsp

Apple Cider vinegar
Method
Preheat oven to 190C.
In a medium bowl warm the coconut manna until very soft. Beat in the yogurt, vanilla and eggs. Add the dry ingredients, mix well and finally add the almond milk to make a thick, soft batter.
Fill muffin cups ⅔ full.
Bake for 25-30 minutes depending on your oven, until a toothpick comes out clean.
No nutritional info supplied