Cookie Dough Ball Brownies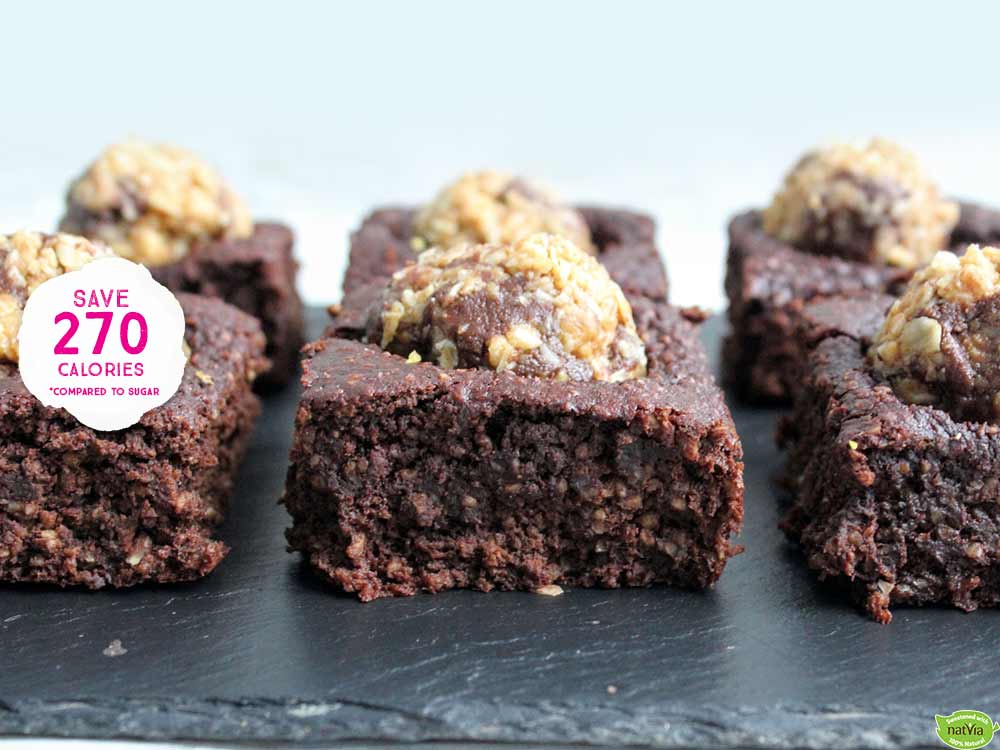 Cookies + Brownies = The perfect combination we never knew we needed!
Liked this recipe? SAVE it to your collection. You can find more sugar-free recipes like this one and more over on our Youtube at Healthy Treats. Liked this recipe? SAVE it to your collection
Serves: 12
Prep Time 10 minutes
Cooking Time: 15 minutes
Ingredients
150 g oat flour
50 g ground almonds
75 g Natvia natural sweetener
4 tablespoon cacao powder
1 teaspoon bicarb of soda
1 teaspoon cinnamon
2 bananas
2 eggs
150 mls almond milk
1 teaspoon vanilla extract
For the cookie dough balls:
3 tablespoon Nuttvia spread
3 tablespoon rolled oats
1 tablespoon oat flour
Pinch of cinnamon
Method
Preheat the oven to 180 degrees C and grease and line a 9x9in baking tin
Mix together the oat flour, ground almonds, Natvia, cacao powder, bicarb of soda and cinnamon in a bowl
Mash the bananas well and whisk in the eggs, almond milk and vanilla until smooth
Spoon the mixture into your prepared tin and bake for 15 minutes until firmed up then leave to cool and cut into squares.
Meanwhile make the cookie dough balls: mix together the ingredients into balls and chill until needed.
Scoop out a little of the middle of each brownie using a teaspoon then place a cookie dough ball in the cavity. Now enjoy!
| | | | | | |
| --- | --- | --- | --- | --- | --- |
| Carbs | Pro | Fats | Energy KJ | Calories | Serving size |
| 8.1g | 5.1g | 5.9g | 432 | 198 | 60g |