DOUBLE CHOCOLATE MUFFINS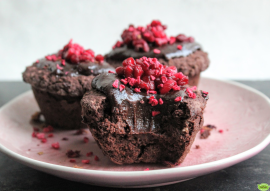 Recipe by 
SpamellaB
What's better than one layer of chocolate? Two of course! These Double Chocolate Muffins are an absolute delight to bite into. Topped with beautiful pomegranate seeds, this Double-Choc recipe is sure to hit the spot!
You can find more sugar-free recipes like this one and more over on our Youtube at Healthy Treats. Liked this recipe? SAVE it to your collection
Serves: 6
Prep: 10 Minutes
Cook: 15- 20 Minutes
Ingredients
For the muffins
250ml almond milk
2 tsp apple cider vinegar
240g gluten-free flour
70g Natvia natural sweetener
4 tablespoons cocoa/cacao powder
2 tsp bicarbonate of soda
1 tsp gluten-free baking powder
1 teaspoon cinnamon
75g melted coconut oil
200g apple puree
1 teaspoon vanilla extract
For the frosting
150g almond butter
30g cocoa powder
3 tablespoons Natvia natural sweetener
150ml almond milk
Method
Preheat the oven to 180 degrees C and lightly grease a 6-hole muffin tin.
Whisk together the almond milk and vinegar and set aside for 5 minutes
Meanwhile mix together the flour, Natvia, cocoa/cacao powder, baking powder, bicarb and cinnamon in a large bowl.
Pour the melted coconut oil, apple puree and vanilla into the dry ingredients along with the milk mixture and stir to combine.
Spoon the mixture between the muffin tins and bake for 15-20 minutes until risen. Leave to cool then place on a wire rack to cool.
Meanwhile prepare the topping by beating together the ingredients (add a little more almond milk if too thick).
Once the muffins have cooled spoon some of the topping over then scatter over the pomegranate seeds and freeze-dried raspberries. Now enjoy!
No nutritional info supplied