EASTER CUPCAKES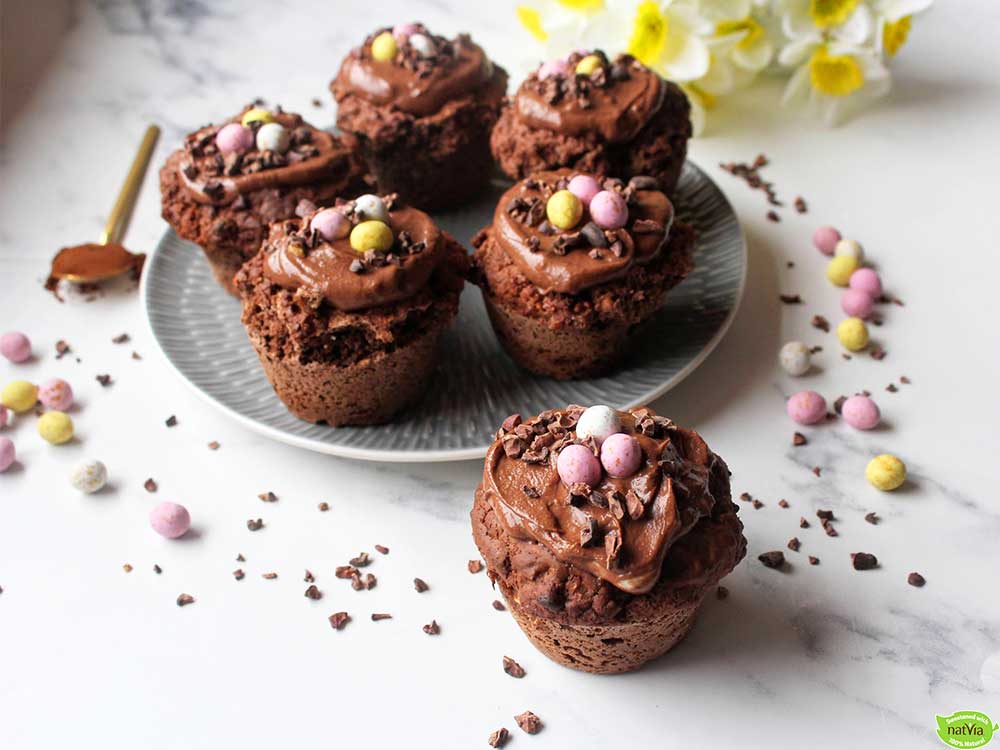 Love cupcakes, love easter?  Us too! That's why we created Natvia Easter Cupcakes with No Added Sugar! Try cheese tiny pieces of heaven this Easter Long weekend for friends and family! Liked this recipe? SAVE it to your collection. You can find more sugar-free recipes like this one and moreover on our Youtube at Healthy Treats.
Serves; 8 - 10
Prep Time: 10 minutes
Cook/Chill time: 20 Minutes
Ingredients
100 g Gluten-Free Flour
50 g Ground Almonds
100 g Natvia Natural Sweetener
40 g Cocoa Powder
1 teaspoon Baking Powder
2 Eggs
200 mls Milk of Choice
1 teaspoon vanilla extract
100 g soft cheese or coconut yogurt
3 tablespoon cocoa powder
3 tablespoon Natvia natural sweetener
2 tablespoon Nuttvia chocolate spread
A few mini eggs and cacao nibs, to decorate
Method
First make the cupcakes: Mix together the flour, ground almonds, Natvia, cocoa powder and baking powder in a bowl.
Whisk together the eggs, milk and vanilla then pour into the dry ingredients and mix well.
Divide between a 6-hole muffin tin and fill to reach the top of each. Bake at 180C for 20-25 minutes until risen and firm. Leave to cool then pop onto a wire rack.
Meanwhile make the frosting: Beat the ingredients together and keep in the fridge until needed.
When the cupcakes have cooled spread some frosting on top of each, then decorate with mini eggs and cacao nibs. Enjoy!
No nutritional info supplied