Gluten Free Banana Pancakes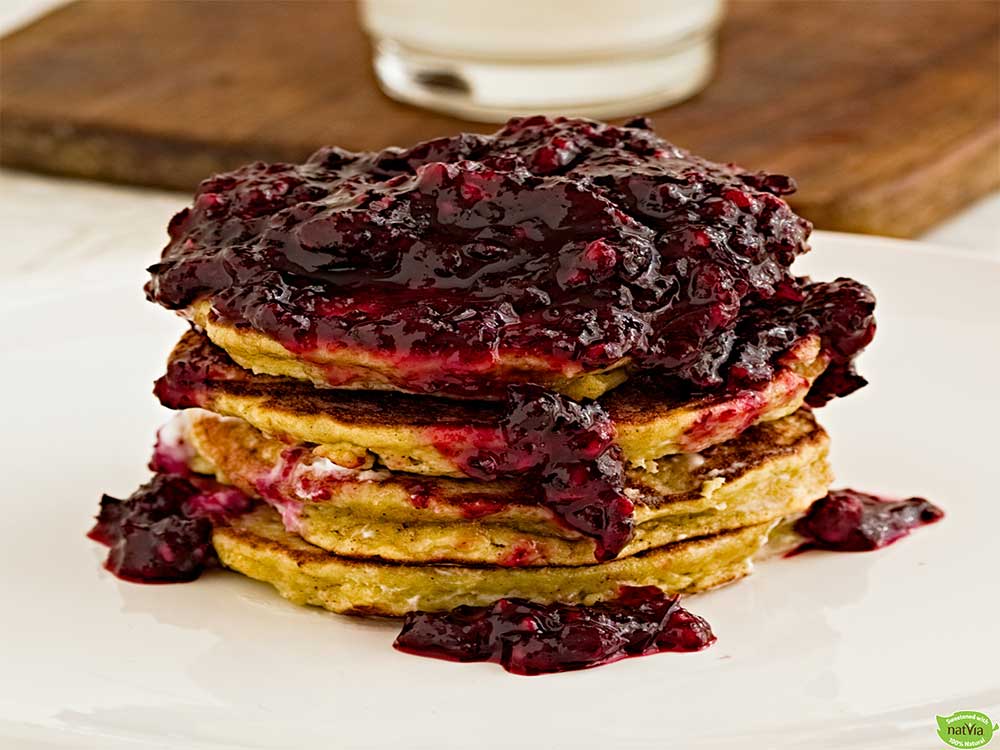 The key in making a great pancake is the process of mixing all of the wet ingredients together and pouring them into the dry. You'll get even more banana flavour if you use a very ripe and heavily spotted banana. These pancakes are heavenly on their own, but taste even better topped with a quick warm berry sauce, which we've included a recipe for below. You can find more sugar-free recipes like this one and more over on our blog or check out Natvia's archive of dessert videos over at 
Healthy Treats!
Ingredients
1 cup gluten free flour blend
1 teaspoon baking powder
0 Pinch of salt
1 teaspoon cinnamon
1 tablespoon Natvia
1 cup unsweetened almond milk
1 teaspoon vanilla extract
1 ripe banana, mashed
0.5 cup frozen berries
Method
In a large bowl, whisk together flour, baking powder, cinnamon, salt, and Natvia. In a large liquid measuring cup, stir together banana, almond milk, and vanilla. Make a well in the centre of the flour mixture and pour your almond milk mixture into the centre. Whisk until combined and most lumps are broken up. Allow to sit while your pan heats.
Preheat a large skillet or griddle on high heat (I like to use a large nonstick electric griddle pan for even heating). Your pan is ready when water dances on the surface for a few seconds and disappears.
Scoop batter out using a 1/3 cup measuring cup and allow to cook about 2 minutes, or until bubbles form on the surface and begin to break. Carefully flip each pancake and cook for 2-3 minutes more. Pancakes are ready when they spring back when lightly pressed on the surface.
Quick Warm Berry Sauce: Microwave 1/2 cup fresh or frozen berries with 1 tbsp Natvia until hot and bubbly. Spoon onto pancakes.
No nutritional info supplied