Hot Cross Bun Doughnuts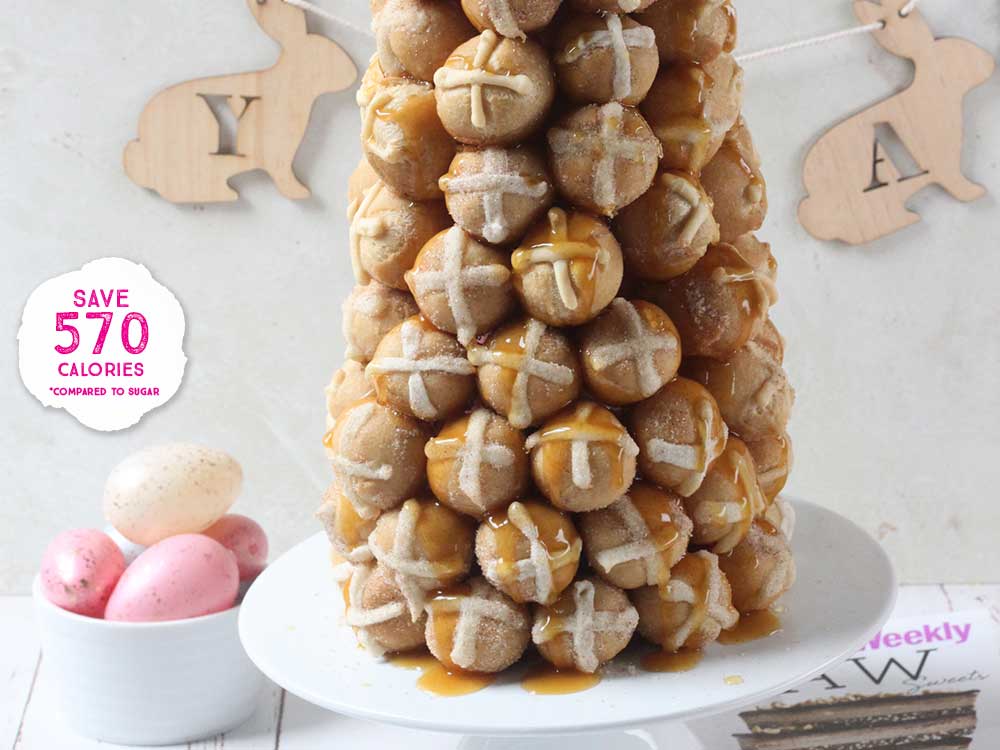 Hot Cross Bun or Doughnut? Why not have both! With this recipe you can, perfect coming up to Easter! Liked this recipe? SAVE it to your collection. You can find more sugar-free recipes like this one and more over on our Youtube at Healthy Treats.
Serves: 18 Individual
Prep: 1.5 Hours
Cook: 10 Minutes
Ingredients
1 teaspoon Dried Yeast
1.5 tablespoon Water, warm
50 g Natvia
270 g Flour, gluten-free
0.25 teaspoon Cream of Tartar
0.25 teaspoon Bi Carb Soda
0.5 teaspoon Mixed Spice, ground
50 g Butter, melted and cooled
80 mls Almond milk, warmed
1 Egg
Salt, pinch
0.5 teaspoon Vanilla Extract
Vegetable Oil, for shallow frying
FLOUR PASTE:
45 g Plain Flour, gluten-free
2 tablespoon Water
EXTRA:
95 g Natvia
2 teaspoon Cinnamon
Nutvia, Natvia Strawberry or Raspberry Jam
2 Disposable Piping Bags
Method
Whisk yeast with warm water and 1 tablespoon of Natvia in a small bowl until yeast is dissolved. Set aside in a warm place for 5 minutes or until mixture is frothy.
Combine flour, mixed spice, cream of tartar, bicarb soda, a pinch of salt and the remaining ¼ cup Natvia in a large bowl. Make a well.
Add yeast mixture, butter, almond milk, egg and vanilla. Mix until a soft, sticky dough forms. Turn out onto a lightly floured surface. Knead for 2 minutes to form a smooth ball.
Place the dough in a lightly oiled bowl and cover with a tea towel. Leave in a warm area for about an hour to prove.
Line two Baking trays with baking paper, take pieces of dough (around a tablespoon) and roll into balls, place on the prepared trays.
Make the flour paste: Mix flour and water in a small bowl until smooth, adding a little more water if too thick. Spoon into a disposable piping bag and pipe a cross onto the top of each dough ball. Stand for 20 minutes.
Place the extra Natvia in a bowl with the cinnamon. Fill the other disposable piping bag with either Nutvia, Natvia Strawberry or Raspberry Jam.
Pour oil into a deep frying pan or small pot until 1/3 full, heat over a medium heat. Cook doughnuts in batches for 1-2 minutes or until golden.
Using a slotted spoon, transfer to a tray lined with paper towel to drain for 10 seconds. Pierce doughnuts with a knife or skewer. Fill with Nutvia or Jam. Toss the filled doughnuts in the Natvia, cinnamon mix to coat. Place on a plate.
Serve warm or at room temperature.
| | | | | | |
| --- | --- | --- | --- | --- | --- |
| Carbs | Pro | Fats | Energy KJ | Calories | Serving size |
| 24g | 1.2g | 4.6g | 594 | 141 | 50g |