Keto Vegan Mini Meringue Ghosts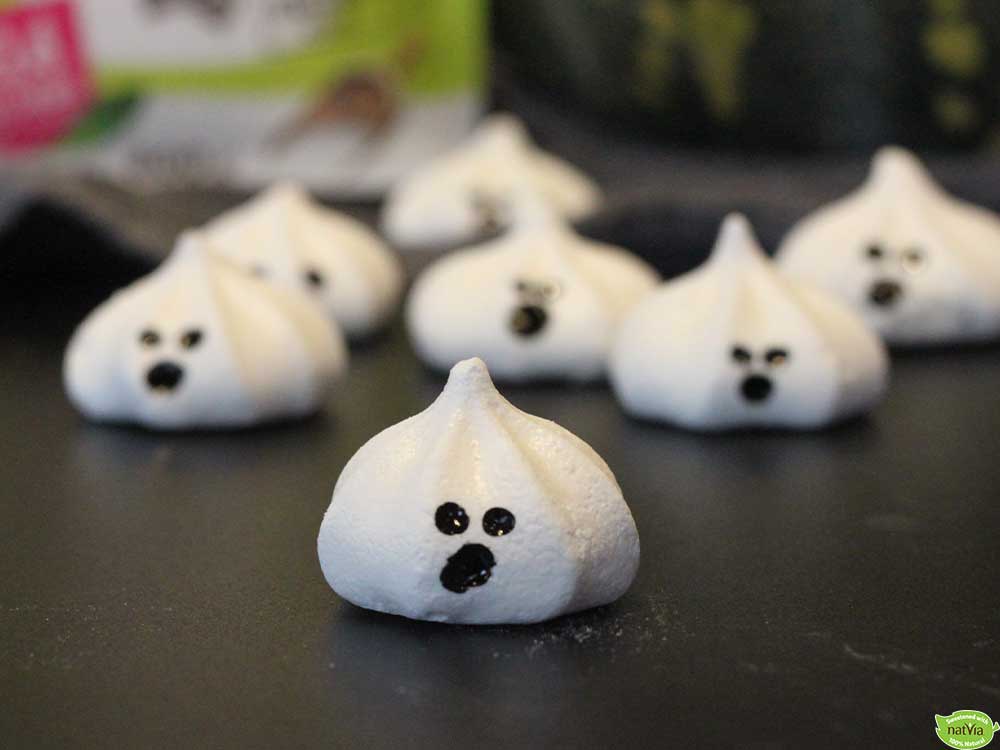 Be the real witch in the kitchen with these Keto and Vegan Mini  Meringue Ghosts! Spookilicious! And they keep the real ghosts(Unhealthy Carbs) away... Liked this recipe? SAVE it to your collection. You can find more sugar-free recipes like this one and moreover on our Youtube at Healthy Treats.
Serves: Makes 40 Mini Ghosts
Prep: 15 minutes
Cook/Chill: 1 hour 15 minutes
Ingredients
225 g Natvia 100% Natural Sweetener
250 mls Aquafaba, strained (1 cup)
1 teaspoon Cream of Tartar
1 teaspoon Vanilla
1 teaspoon Cornflour
0 Black Gel Icing
Method
Preheat oven to 140C and line 2 baking trays
Using a stand mixer, whisk together the aquafaba and cream of tartar to soft peaks.
Slowly add the Natvia a spoon at a time, while continuing to whisk. Whisk until the meringue is thick and glossy (around 1 minute).
Add the vanilla and whisk for a further 30 seconds.
Add the cornflour and continue to beat for a further minute.
Spoon the mixture into a piping bag and using a star nozzle, pipe meringues onto the prepared tray.
Place into the oven for 40 minutes, rotating the tray half way through the baking time.
Once cooked, turn off the oven and allow the meringues to cool inside, with the door slightly ajar.
Once completely cooled, use the gel icing to pipe on ghostly faces.
| | | | | | |
| --- | --- | --- | --- | --- | --- |
| Carbs | Pro | Fats | Energy KJ | Calories | Serving size |
| 0.3g | 0.1g | 0g | 12kj | 3 | 9g |