SPICED PUMPKIN SCONES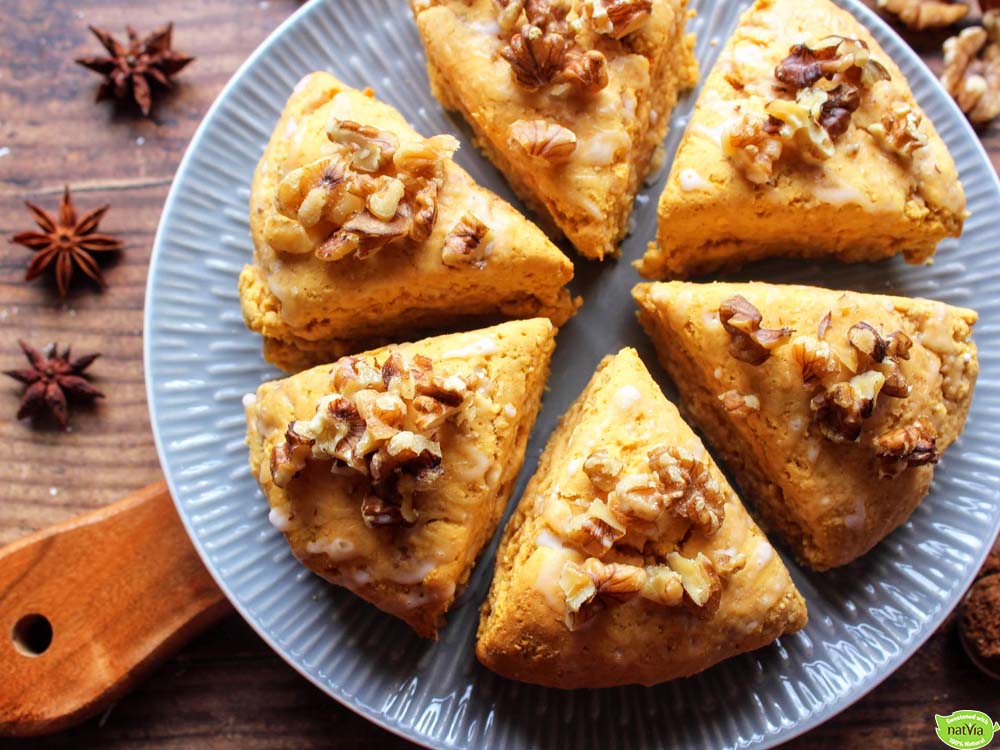 Serve these tasty spiced pumpkin scones warm and topped generously with cream or butter. They make at the perfect snack for Halloween! Liked this recipe? SAVE it to your collection. You can find more sugar-free recipes like this one and moreover on our Youtube at Healthy Treats.
Serves 8
Prep 25 minutes
Bake 20 minutes
Ingredients
150 g gluten-free flour
100 g oats
80 g Natvia natural sweetener
1 teaspoon Cinnamon
0.5 teaspoon teaspoon mixed spice
1 teaspoon baking powder
60 mls melted margarine or oil
60 mls almond milk
70 g pumpkin puree
1 egg
1 teaspoon vanilla extract
For the glaze:
40 g Natvia icing sugar
2 tablespoon almond milk
Chopped walnuts or pecans, to decorate
Method
Place the scone ingredients into a food processor and blend until a dough forms.
Place onto a floured surface and knead gently into a ball. Flatten out and shape into a round with your hands. Cut into 6-8 pieces then place on a baking tray.
Bake at 180C for 20 minutes until risen and golden, then leave to cool before placing on a wire rack.
Stir together the icing sugar (sifted) and milk to form a glaze and drizzle over each scone. Scatter over chipped nuts then enjoy!