Baked Lemon Cheesecake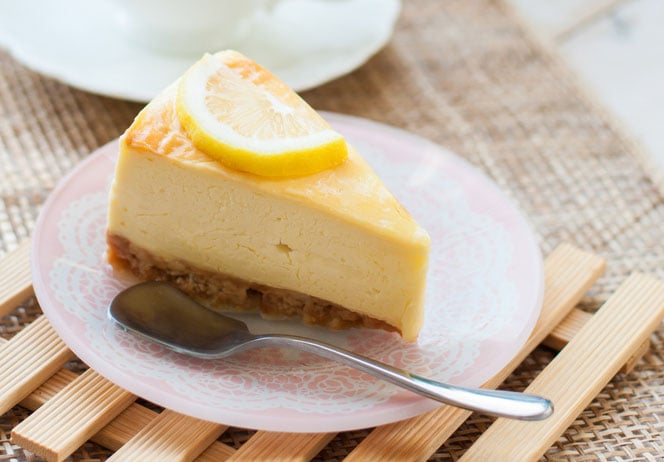 You can find more sugar-free recipes like this one and more over on our blog or check out Natvia's archive of dessert videos over at 
Healthy Treats!
Ingredients
1 cup/150g/5.2 oz unsalted macadamias 3/4 cup oats 1/4 cup/60g/2 oz melted unsalted butter
Filling:
3 cups/750g/1 lb 10.4 oz cream cheese at room temperature 3/4 cup/135g/4.7 oz Natvia 2 eggs 1 lemon, zested and juiced 1 tsp vanilla extract
Method
Preheat oven to 150°C and line springform pan with parchment paper.
Grind down the macadamias with food processor, add butter. Grind the oat and mix together with the macadamia mix.
Place into the bottom of the pan and press down evenly. Set aside.
Paddle cream cheese until light and fluffy and add Natvia. Mix until combined.
Add eggs one by one, scraping down the sides and mix until combined.
Add vanilla extract and lemon zest and juice.
Pour filling mixture into cake pan and bake for 30-40 minutes until set.
No nutritional info supplied