Prawn Cocktail Canapés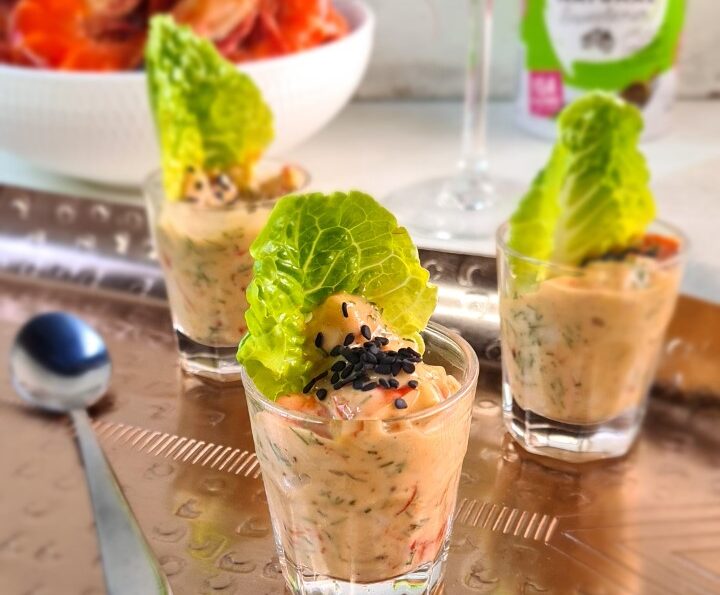 Prawn Canapés are definitely a crowd pleaser, it's the perfect start to a dinner party or even just as snacks. This canapé recipe is so simple yet look so impressive, your guests will never know how easy they are to make! It only takes 20 minutes to whip up but look really fancy once they're assembled.
Nutritional Information Tips/tricks
These can be made in the morning and refrigerated until you are ready to serve.
Nutritional information is per canapé.
Top with black sesame seeds for extra crunch.
To make the Natvia Sugar Free Cocktail sauce Ingredients
1 Egg Yolk
1 1/2 tsp Tamari
1 tbsp Lemon Juice
2 tsp Horseradish, finely grated
1 1/2 tsp Natvia, blitzed to fine consistency
1 tbsp + 1 tsp Sugar Free Tomato Sauce
180ml Vegetable Oil
Salt and Pepper
Method
In a bowl combine the egg yolk, tamari, lemon juice and horseradish, whisk to continue.
Very slowly drizzle the oil in a little at a time, whilst continuing to whisk. The mayonnaise will gradually start to thicken. Continue whisking until all of the oil has been added.
Add the tomato sauce, Natvia and season with salt and pepper. Whisk again until well combined.
Serves: Makes 12 Canapes
Prep: 20 minutes
Ingredients
20 Cooked Tiger Prawns, cleaned, deshelled and diced
12 tablespoon Natvia Sugar Free Cocktail Sauce (see recipe under tips/tricks)
4 tablespoon Dill, finely chopped
Salt and Pepper
12 inner leaves of Baby Cos Lettuce
Method
Arrange 12 shots glasses on a tray.
In a bowl combine the prawns, cocktail sauce and dill. Stir to combine. Season with salt and pepper.
Arrange the baby cos lettuce in the shot glasses and spoon in the prawn mixture, ensuring even amounts between each glass.
Serve topped with extra cracked black pepper.
| | | | | | |
| --- | --- | --- | --- | --- | --- |
| Carbs | Pro | Fats | Energy KJ | Calories | Serving size |
| 0.3g | 10.3g | 7.6g | 465kJ | 111 | 60g |