Red Velvet Muffins With Cashew Frosting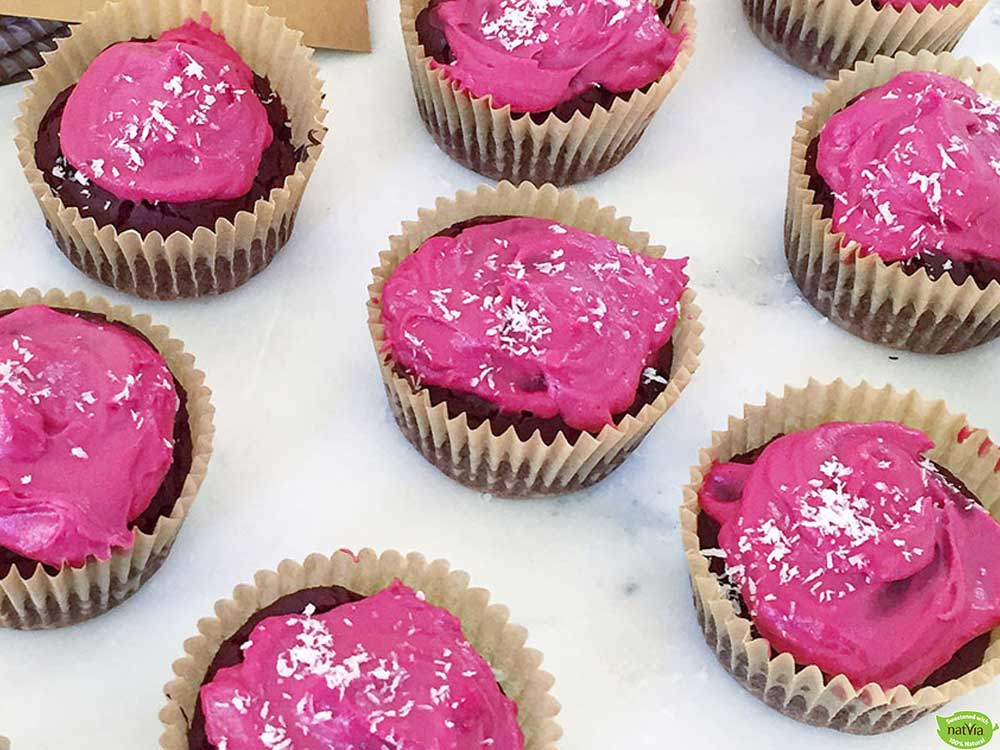 Red Velvet Love Muffins with Pink Cashew Butter Frosting – gluten-free, sugar-free, vegan. You can find more sugar-free recipes like this one and more over on our blog or check out Natvia's archive of dessert videos over at 
Healthy Treats!
Ingredients
4 medium beetroots, boiled
1.5 cup buckwheat flour
0.5 cup coconut milk
0.5 cup Natvia
0.5 cup unsweetened apple sauce
3 tablespoon raw cocoa powder
1 teaspoon vanilla extract
1 teaspoon baking powder
0.5 teaspoon baking soda
1 teaspoon apple cider vinegar (ACV)
0.25 teaspoon salt
0.75 cup raw cashews, soaked overnight and rinsed
2 tablespoon Natvia
0 Leftover beetroot mixture from blender in cupcakes (about 1 tbsp worth)
1 tablespoon organic extra virgin coconut oil
2 tablespoon filtered water
1 teaspoon vanilla extract
0 Squeeze lemon juice
0 Pinch sea salt
Method
Preheat oven to 180C.
In a large bowl, whisk together the flour, cocao powder, sea salt, baking soda and baking powder.
In your blender, add the coconut milk, ACV, beetroot, apple sauce, Natvia sweetener and vanilla extract in. Blend until smooth.
Pour the beetroot mixture into the dry mix, and then set the blender aside for the frosting – we want a little beetroot mix to be left in there for colour, therefore no need to wash it!!.
Use a whisk to incorporate all into a batter.
Use cupcake liners to line your muffin tray, and place about 2.5 tbsp mixture into each (they should by approx. ¾ full).
Bake for 25-30 minutes or until a cake tester comes out clean when poked in the middle.
Allow to sit at room temp at least 30 minutes before icing and serving.
Best kept in the refrigerator for up to one week.
Blend all ingredients in your blender until smooth and creamy and a medium-light pink colour.
Scoop into a small bowl and place uncovered in the freezer for 30-40 mins to thicken.
Remove from freezer and mix well.
Spoon 1 tsp onto each cupcake!
No nutritional info supplied