Rich Chocolate Tart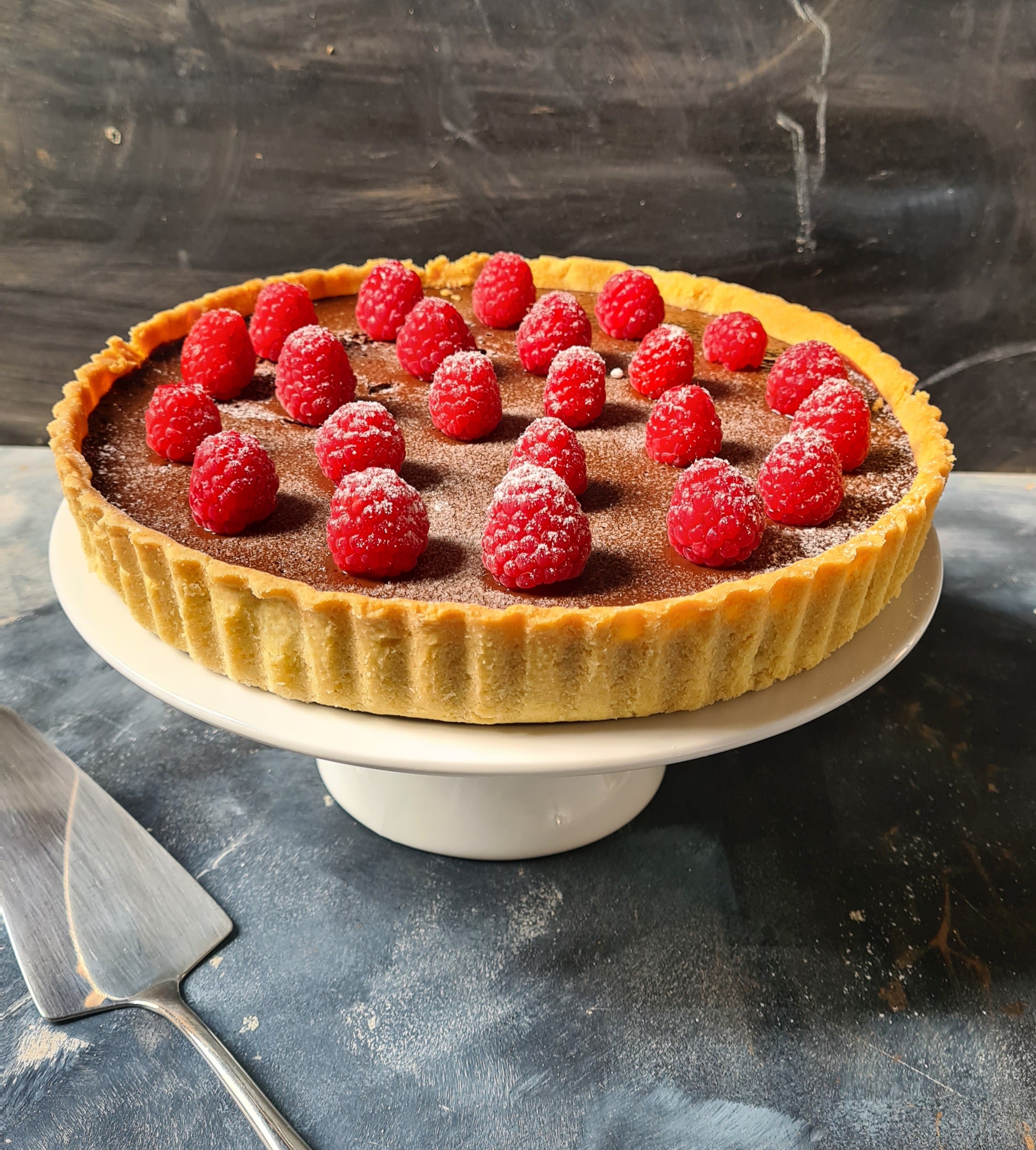 This Rich delicious Chocolate Tart is perfect for an impressive dessert or a healthy afternoon snack! This recipe is simple and easy to make with no added sugars, its moist and chocolaty taste is perfect for an enjoyable dessert!
Nutrition Information Tips/Tricks
Nutritional information is per piece without cacao or raspberries
Serves: 12
Prep: 1 hour
Cook/Chill: 1 hour
Ingredients
PASTRY
150 g Unsalted Butter, softened
75 g Natvia
250 g Plain Gluten Free Flour
25 g Almond Meal
1 Egg Yolk
1 teaspoon Lemon Juice
2 teaspoon Vanilla
FILLING
400 g Natvia Dark Chocolate
260 mls Cream
120 mls Milk
2 Eggs whisked
Cacao, optional for serving
Raspberries, optional for serving
Method
To make the pastry, combine the butter and Natvia in a food processor and pulse to combine. Add the flour, almond meal, egg yolk, lemon juice and vanilla, pulse again until the dough comes together.
Remove from the food processor and mould into a disc. Wrap in glad wrap and refrigerate for 30 min. 
Once rested, roll the pastry between two sheets of plastic wrap to 5mm thick. Line a 24cm fluted tart tin with the rolled pastry. Trim the edges and refrigerate for 20 minutes. 
Preheat oven to 180C. Blind bake the tart for 13-15 minutes (the edges should be golden). Remove the baking beads and cook for a further 8-10 minutes (the base should be golden). Remove from the oven and set aside.
Break the chocolate into pieces, place in a heatproof bowl and set aside. Heat the cream and milk to a simmer and pour over the chocolate. Stir until the chocolate has melted.
Reduce the oven temperature to 130C.
Add the eggs into the chocolate mixture and whisk to combine.
Pour into the prepared tart base and place in the oven for 30-35 minutes. The tart is ready when there is still a slight wobble in the centre.
Once cool dust with cacao.
Serve at room temperature with fresh raspberries.
| | | | | | |
| --- | --- | --- | --- | --- | --- |
| Carbs | Pro | Fats | Energy KJ | Calories | Serving size |
| 18.4g | 4.5g | 33.1g | 1720kj | 411 | 112g |