Salted Caramel, Peanut Butter & Chocolate Bites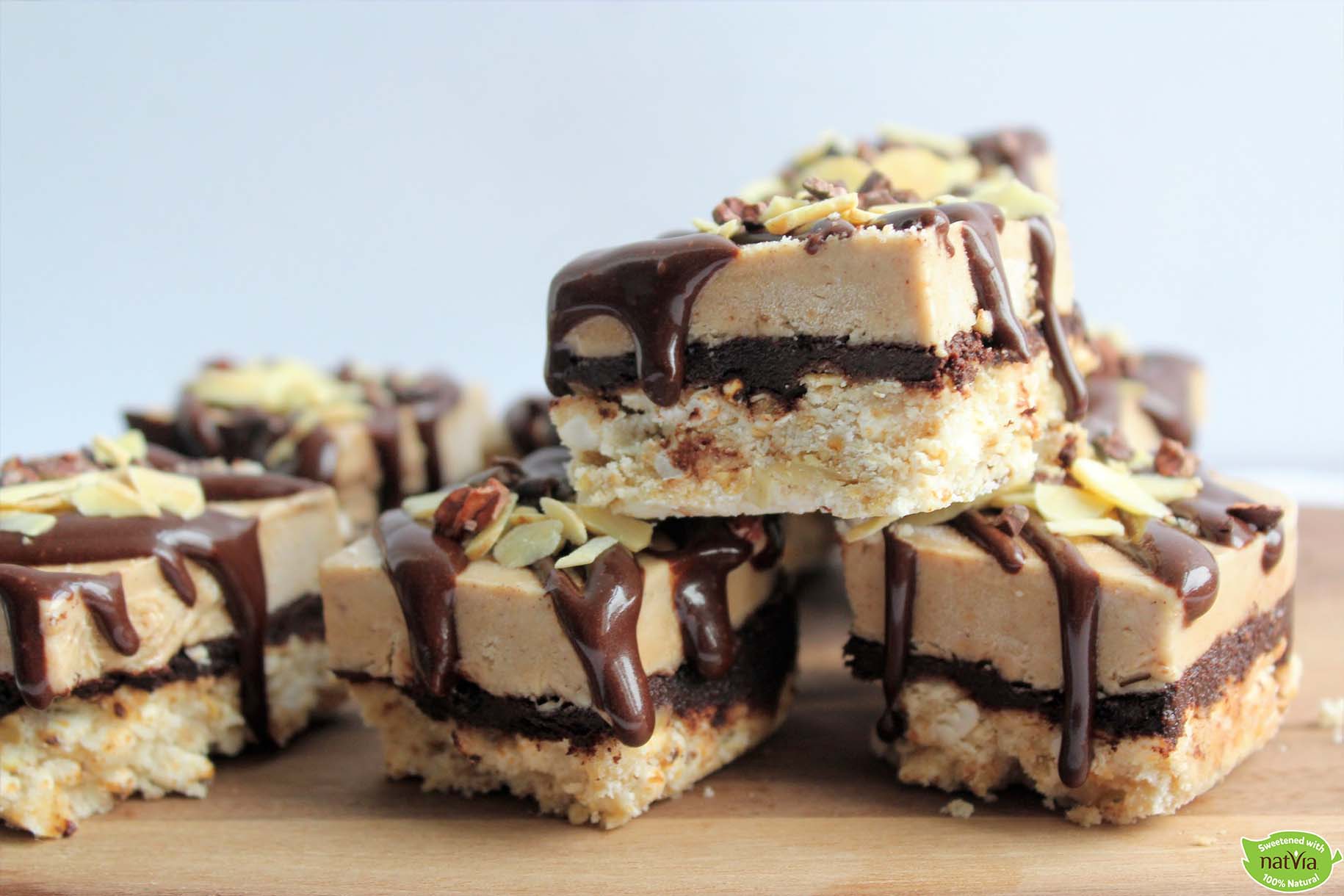 Looking for the ULTIMATE sugar-free indulgence? We have just the thing! Our Salted Caramel, Peanut Butter, and Chocolate Bites are a MUST TRY for ALL dessert lovers! Combining three iconic dessert flavours - salted caramel, peanut butter, and chocolate- into a single slice over three layers, it's hard to believe this entire recipe is refined sugar-free! Starting with this dessert's peanut base you will soon hit the rich, chocolate hazelnut flavours of
Nuttvia
, our brand new hazelnut spread that has ZERO palm oil, 97% LESS sugar and has a 5 STAR health rating! Topping off this slice of heaven is our peanut butter, banana and almond ice cream! There's NO WAY you can't miss this one! You can find more sugar-free recipes like this one and more over on our blog or check out Natvia's collection of dessert videos over at 
Healthy Treats!
Ingredients
For the Base:
100 g rolled oats
4 tablespoon Natvia Natural Sweetener
For the Chocolate Layer :
5 tablespoon Nuttvia Hazelnut Spreads
1 teaspoon Vanilla Extract
0.5 teaspoon Cinnamon
2 tablespoon Almond Milk
For the Ice Cream Layer
4 Frozen Bananas
4 tablespoon Almond Milk
2 tablespoon Peanut Butter
3 tablespoon Natvia Natural Sweetener
1 teaspoon Vanilla Extract
To Decorate:
Flaked Almonds
Cacao Nibs
Method
First make the base: Mix together the oats, puffed rice and coconut flour in a bowl. Melt the coconut oil, peanut butter and Natvia then pour in and mix well to form a slightly sticky mixture. Press into a lined tin and cover the base evenly. Set aside.
Next make the chocolate layer: Simply whisk all of the ingredients together to form a slightly thick sauce. Pour 3⁄4 of it over the base then place in the freezer for at least 30 minutes. Set aside the rest.
Make the ice cream layer: Remove the bananas from the freezer 5­10 minutes beforehand to allow to soften slightly, then place in a blender along with the other ingredients. Whizz up for a good few minutes until thick and smooth. Pour over the chocolate layer then return to the freezer for at least 4 hours to set.
When ready to serve, remove from the freezer 5 minutes beforehand then place on a chopping board. Cut into squares with a sharp knife then drizzle over the rest of the chocolate sauce. Top with almonds and cacao nibs then enjoy!
No nutritional info supplied