Shortbread Crescents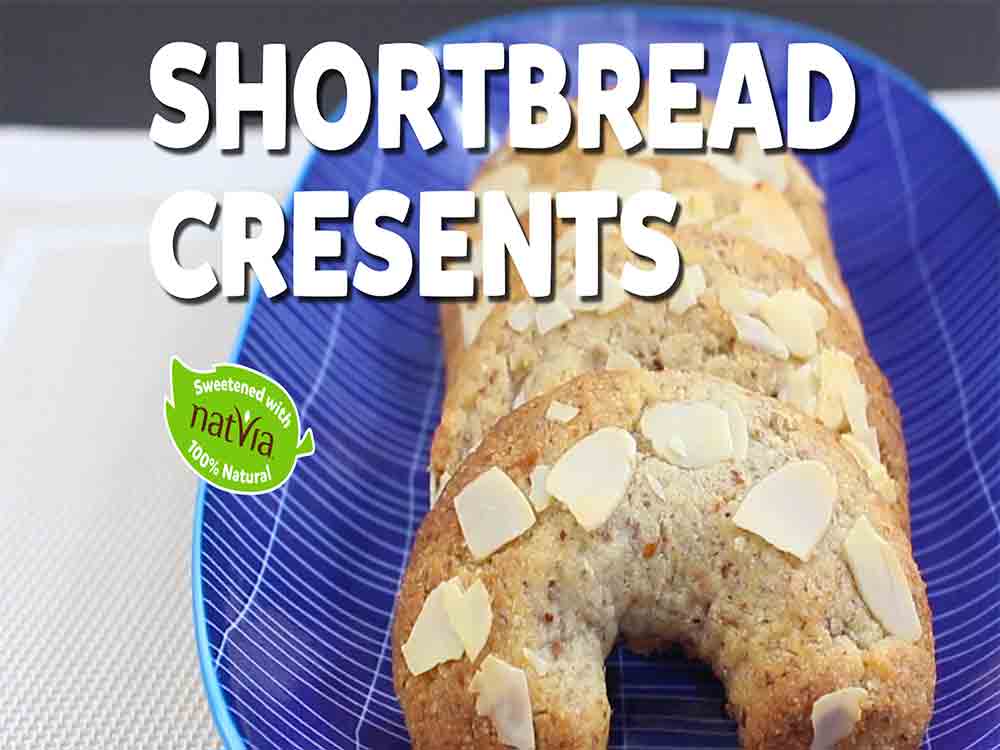 This is a healthy dessert recipe alternative made completely without sugar. A sugar free Shortbread Crescents recipe. Yes that's right, these are shortbreads that are sugar free! The healthiest version of sugar free Shortbread Crescents you can get, by Natvia. Made with Natvia 100% Natural Sweetener! That's right there is no sugar used in any of our recipes! You can find more sugar-free recipes like this one and more over on our blog or check out Natvia's archive of dessert videos over at 
Healthy Treats!
Ingredients
1/2 cup Butter
Pinch of Salt (kosher) 3/4 cup Natvia 1/2 tsp Vanilla Extract 2 cups Almond Flour 1/3 cup Flaked Almonds
Method
Start by adding 1/2 soft butter to a mixing bowl.
Add 3/4 Cup Natvia to the mixing bowl with the butter.
Use an electric beater to beat/cream the ingredients until mixed evenly (until soft).
Add 1/2 tsp Vanilla Extract as well as 1 tsp of Almond Extract to the mixture in the bowl.
Add a pinch of kosher salt to the bowl and begin to stir vigorously.
Add 2 cups of Almond Flour whilst continuing to stir.
Once evenly mixed and the consistency has become a more solid texture, roll the mixture into small palm sized balls.
Once palm sized balls, place the balls down and roll them into small sausages and then shape the sausage into a crescent shape ready for baking.
Once all of the mixture has become crescent shapes, roll the crescents back and forth through flaked almonds and place on a lined flat baking tray.
Once on the baking tray, place the crescents in the oven for approximately 15 minutes at 175°C.
No nutritional info supplied