Sugar Free Baked Churros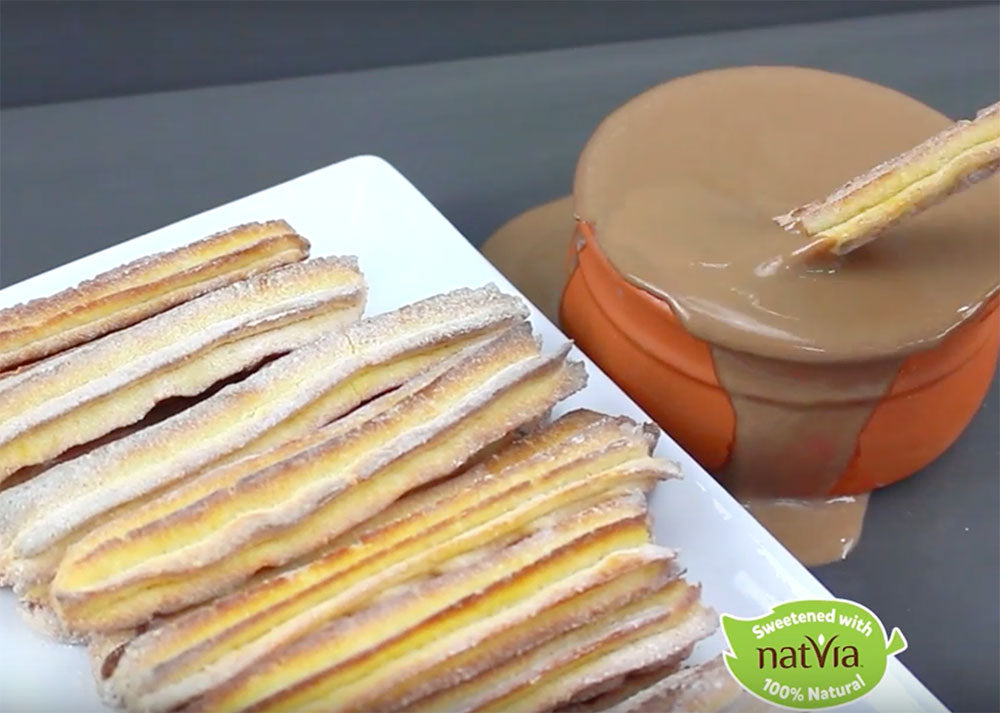 You can find more sugar-free recipes like this one and more over on our blog or check out Natvia's archive of dessert videos over at 
Healthy Treats!
Ingredients
1 cup water 1/2 cup butter 1/2 tsp vanilla extract 1/2 tsp salt 2 tbsp Natvia 1 cup plain flour 3 eggs
Cinnamon Coating
1/4 cup Natvia 1/4 tsp salt 1 tsp ground cinnamon
Chocolate Dip
1 cup sugar free chocolate 2 cups milk 1/2 tsp cornstarch flour mixed with water 1/4 tsp vanilla extract
Method
Preheat oven to 200C. Prepare baking pan line with baking paper.
Heat water in medium saucepan over medium heat. Add butter,cook until the butter melt and the mixture starts to simmer. Add the flour and whisk until the mix clumps into a dough ball.
Cook for a minute over low heat stir with a wooden spoon, remove from heat and continue stirring. Set aside.
Whisk together 3 eggs, add to the cooked dough slowly. Add vanilla extract and continue mixing until well combined.
Prepare piping bag with large star nozzle. Transfer the dough to the piping bag.
Pipe the dough slowly, nice and thick.
Bake for 18-20 minutes or golden brown, leave for 10 minutes to let the churros set.
For the coating, combine together all ingredients and mix well.
Coat the slightly warm churros evenly.
For the chocolate dip, heat the milk and add chopped chocolate and the corn starch.
Serve the churros with the dip, best enjoyed with hot beverage in winter or something cool in summer.
WATCH THE VIDEO
No nutritional info supplied