SUGAR FREE COFFEE & WALNUT CAKE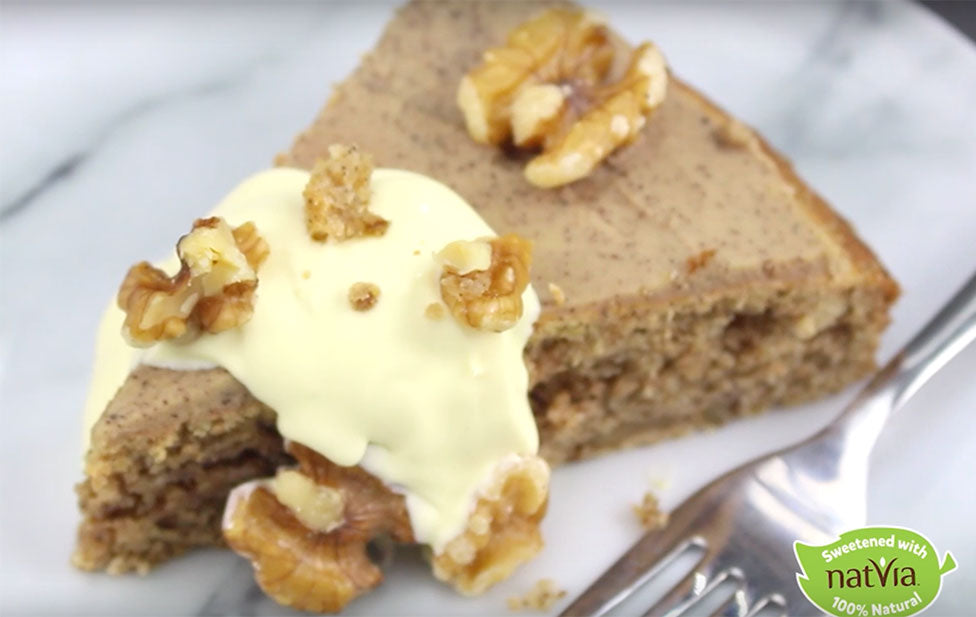 You can find more sugar-free recipes like this one and more over on our blog or check out Natvia's archive of dessert videos over at 
Healthy Treats!
Ingredients
175 g butter
75 g walnut
1 cup Natvia
3 large eggs
150 g self raising flour
1.25 teaspoon baking powder
50 mls espresso
100 g Natvia Icing mix
40 mls espresso
Method
Preheat oven to 180C, grease and line a 20cm round baking pan.
Blitz/grind 50g walnuts in food processor.
Cream butter, add Natvia, beat until light and fluffy.
Add the eggs, one at a time, continue by adding the blitzed walnuts.
Fold the flour, baking powder and salt, followed by chopped walnuts and espresso coffee. Mix until well combined.
Transfer into the baking pan, spread evenly and bake for 20-25 minutes. Cool on wire rack.
For the icing, mix Natvia icing mix and the espresso.
Apply icing on top of the cake, spread evenly. Decorate with walnuts.
Serve with cream.
WATCH THE VIDEO
No nutritional info supplied