Sugar Free Lamingtons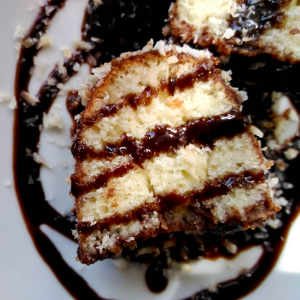 Dipped in a smooth chocolate syrup and covered in shredded coconut. This a healthier recipe without the loads of sugar, share it with your family and friends on Australia day! You can find more sugar-free recipes like this one and more over on our blog or check out Natvia's archive of dessert videos over at 
Healthy Treats!
Ingredients
2 cup self rising flour
3 large eggs
0.5 cup butter, room temperature
1 cup Natvia 100% Natural Sweetener
1 tablespoon vanilla extract
0.25 cup unsweetened cocoa powder
3 cup Natvia 100% Natural Sweetener
1 tablespoon butter, room temperature
0.5 cup water
2 cup dried shredded coconut
Method
Preheat your oven to 160º C.
In a large bowl, add butter, eggs, vanilla extract and Nativa; whisk them together until the mixture is all fluffy.
Add your self rising flour, previously sifted.
With a spatula, start folding in your flour until all the ingredients are integrated.
Pour your batter in your baking pan or molds.
Bake for 30 minutes or until you insert a toothpick inside the middle of the cake and it comes out clean.
Let your cake cool down for at least 2 hours before cutting it into little squares or before demoulding it.
In a food processor, blitz Natvia to make finer grain.
Mix your powdered Natvia, cocoa powder, make sure there are no clumps, sift them if necessary.
Boil your ½ cup of water and pour it in the mixture.
Immediately add the butter and stir it until you get a smooth syrup.
Dip your pieces of cake into the chocolate mixture, with the help of a fork, lift the piece of cake and let it drip the excess.
Cover every piece in coconut after the chocolate syrup.
Let them set room temperature or in the refrigerator.
No nutritional info supplied