Vegan Chocolate Torte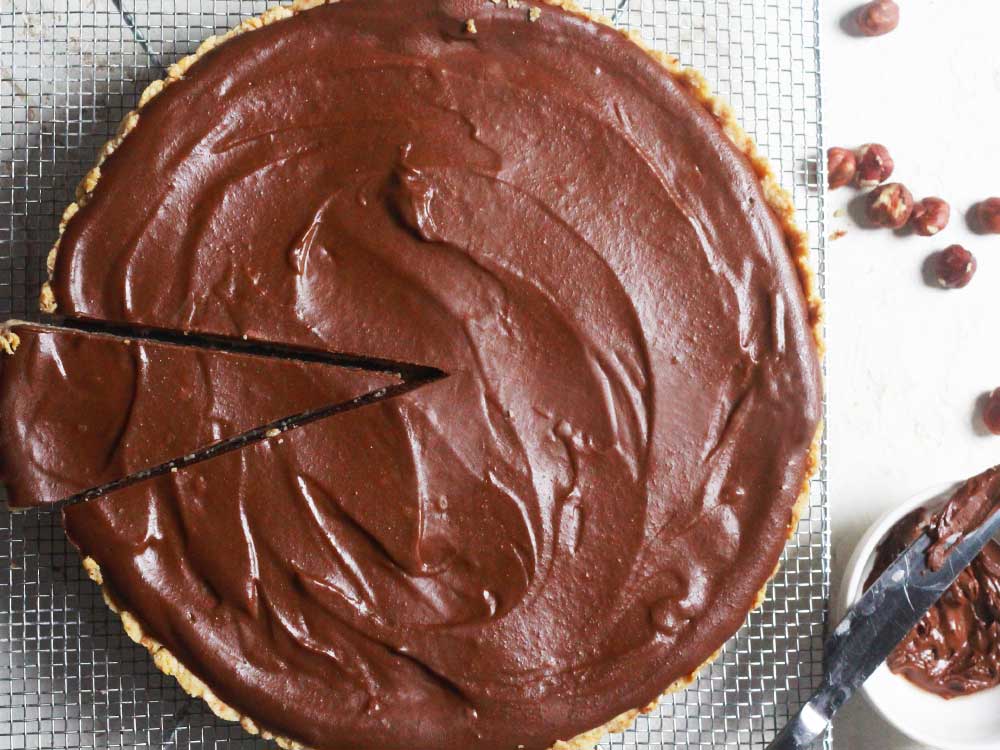 This decadent Vegan Chocolate Torte is insanely delicious, sugar-free, gluten-free and vegan! Perfect for weekend baking or as a dessert to share with loved ones. 
Liked this recipe? SAVE it to your collection. You can find more sugar-free recipes like this one and moreover on our Youtube at Healthy Treats. 
Serves: 12
Prep: 50 Minutes
Chill: 4 Hours
Ingredients
BASE:
105 g Raw Unsalted Hazelnuts (2/4 cup)
70 g Coconut Oil (1/3 cup)
1 tablespoon Natvia
2 tablespoon Water
0.25 teaspoon Sea Salt
55 g Gluten Free Plain Flour (1/2 cup)
50 g Quinoa Flakes (1/2 cup)
CHOCOLATE FILLING:
220 g Cashews, soaked for 30 minutes in boiling water (1 1/2 cups)
80 g Nuttvia (1/2 cup)
105 g Coconut Oil (1/2 cup)
50 g Sugar Free Vegan Dark Chocolate, melted (1/3 cup)
0.5 teaspoon Sea Salt
0.5 teaspoon Espresso Coffee
Method
Preheat the oven to 180C (non fan forced oven) Lightly grease a 22cm quiche tin with oil.
In a food processor process the hazelnuts into a fine crumb. Add the rest of the ingredients and pulse until it comes together. It will be wetter than a traditional dough, but should stick together when pressed between your fingers.
Crumble the dough evenly over the base of the quiche dish. Press the mixture firmly and evenly into the dish, so it covers the bottom and a little of the sides. With a fork, poke a few holes into the bottom to let steam escape when baked.
Bake the crust uncovered, for 15-17 minutes, until lightly golden. Removed from the oven and set aside to cool on a rack
To make the filling, drain the cashews. In a high-speed blender combine cashews, Natvia, coconut oil, melted chocolate, salt and espresso. Blend on high until smooth. If the blender needs more liquid add 1-2 tbsp of almond or dairy free milk of your choice.
Pour the filling into the prepared crust and place in the freezer to set.
To serve remove the torte from the freezer 15 minutes before serving. It should be served slightly chilled.
| | | | | | |
| --- | --- | --- | --- | --- | --- |
| Carbs | Pro | Fats | Energy KJ | Calories | Serving size |
| 13.5g | 5.5g | 33.9g | 1620 | 387 | 60g |