Vegan Cinnamon Scrolls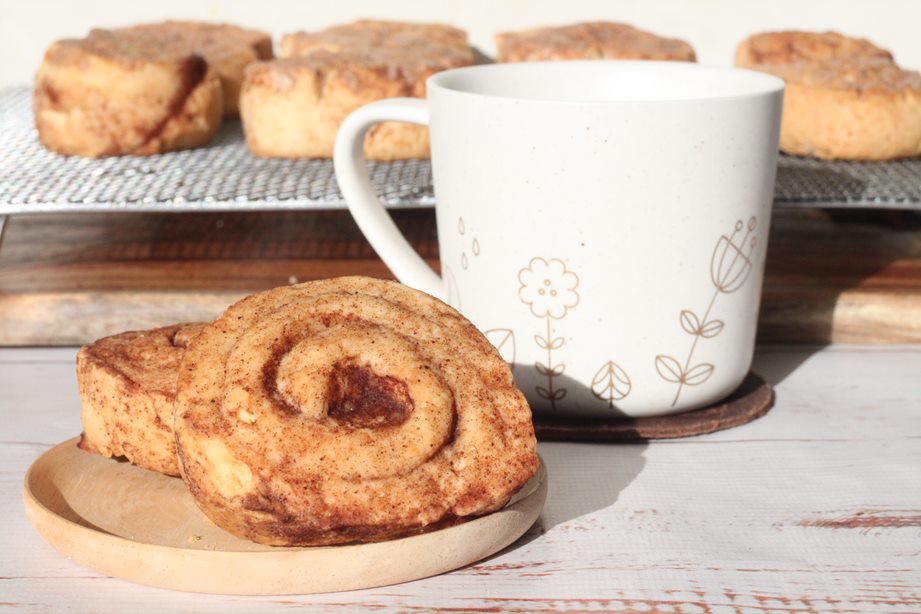 This light and soft Vegan Cinnamon Scrolls are definitely one to make if you want to impress your friends family! This easy recipe is perfect for an afternoon snack or kids lunch as not only is it dairy free and gluten free! There is no added sugars you can now enjoy your scroll with in guilt!
Nutrition tips/tips
Note- if your milk is too warm it will kill the yeast
Serves: 14
Prep: 1 hour
Cook/Chill: 30-40 minutes
Ingredients
cup 3/4 cup Almond Milk (180ml), warmed slightly
8 tsp Natvia (32g)
5 tbsp Vegan Margarine
2 ¼ tsp Yeast (10g)
500g Gluten Free Bread Flour
3/4 cup Almond Meal
2 1/2 tsp baking powder
1/2 tsp Salt
FILLING:
3 tbsp Vegan Margarine, melted
½ cup Natvia
1 tbsp ground cinnamon
Method
Preheat oven to 180C grease and line a baking tray. Set aside.
Combine the warmed almond milk 1 tablespoon margarine, 4 teaspoons Natvia and the yeast. Set aside for 10 minutes to prove.
In a medium bowl whisk together 2 cups gluten bread flour, almond meal, 4 teaspoons Natvia, baking powder, and salt. Add the remaining 4 tablespoons vegan butter and with your fingertips incorporate the butter into the flour mixture (it should resemble wet sand)
Slowly pour the almond milk-yeast mixture a little at a time and stir into the dry ingredients and stir. Use the remaining bread flour to bring it together to form a ball.
Roll the dough between 2 sheets of clingfilm into a large rectangle.
In a small bowl combine the melted butter, ½ cup of Natvia and cinnamon.
Remove the top layer of cling film and brush half the butter mixture over the rectangle.
Using the bottom layer of cling film as a guide, slowly roll the dough lengthways into a cylinder (keeping it as tight as possible).
Using a sharp knife cut it into 14 even rolls and place on the baking tray.
Cover with a tea towel and place the tray in a warm area for 30 minutes.
Remove the tea towel and brush the remaining Natvia, butter mixture over the scrolls.
Bake for 30-35 minutes or until golden.
Store the rolls in an airtight container for 3-4 days, alternatively freeze. Enjoy!
| | | | | | |
| --- | --- | --- | --- | --- | --- |
| Carbs | Pro | Fats | Energy KJ | Calories | Serving size |
| 19.4g | 2.9g | 10.2g | 785kJ | 187 | 68g |