Carrot and Orange Soup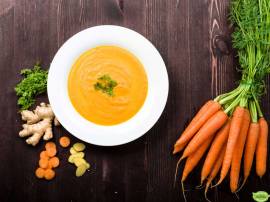 You can find more sugar-free recipes like this one and more over on our blog or check out Natvia's archive of dessert videos over at 
Healthy Treats!
Ingredients
2 tsp olive oil 1 medium red onion, diced 1 tsp fresh ginger, diced 1 tsp fresh garlic, diced 10 large carrots, peeled and chopped 4 cups/1L low sodium stock of choice 1 tsp  Natvia 1/2  orange, juiced and zested Salt and pepper, to taste.
Method
Over medium heat in a large saucepan, sauté the onion, ginger, and garlic in the olive oil, until it is fragrant and they have softened
Add the carrots and sauté for 2-3 minutes
Add the stock, Natvia, orange zest and juice, and bring to a boil. Reduce heat to medium-low and boil until carrots are soft and break apart easily.
Add salt and pepper to taste and puree.
No nutritional info supplied