Chocolate Coconut Loaf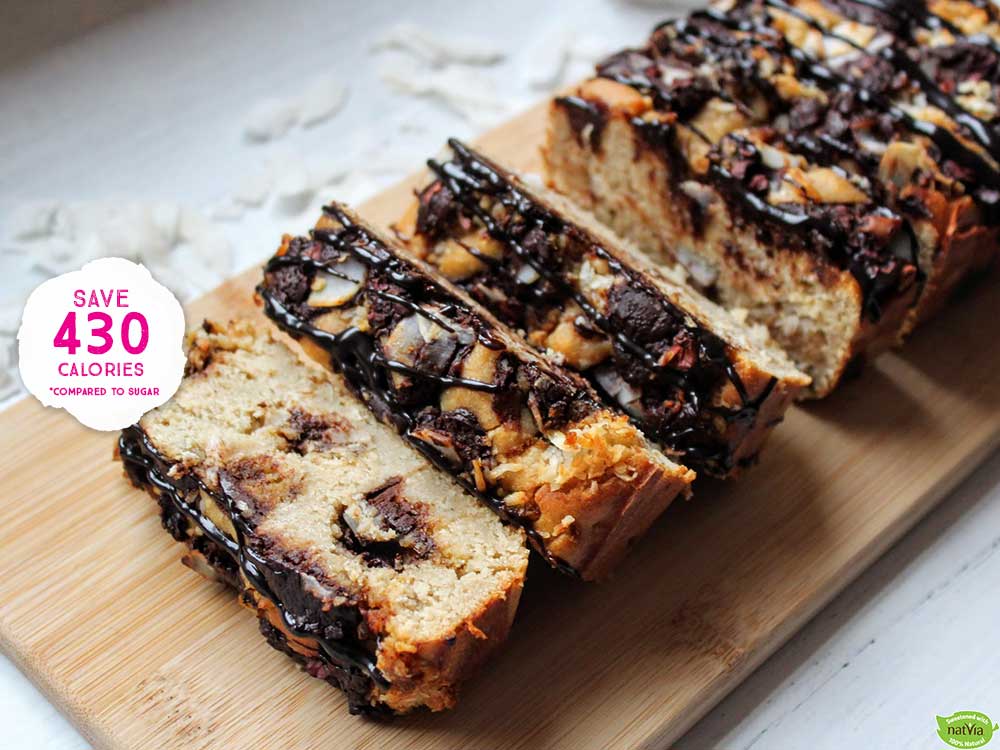 Recipe by 
SpamellaB
This delicious Chocolate Coconut Loaf is dairy and gluten free! The perfect breakfast or afternoon treat without the sugar! Liked this recipe? SAVE it to your collection. You can find more sugar-free recipes like this one and more over on our Youtube at Healthy Treats.
Serves: 8-10
Prep: 20 minutes
Cook: 30-40 minutes
Ingredients
420 g Butter beans, drained and rinsed (2 cups)
200 mls Milk of choice (3/4 cup)
2 Eggs
1 teaspoon Vanilla extract
100 g Oat flour (2/3 cup)
50 g Desiccated coconut (2/3 cup)
50 g Ground almonds (1/3 cup)
80 g Natvia (1/4 cup)
1 teaspoon Baking powder
COCONUT CHOCOLATE CHUNKS:
3 tablespoon Coconut oil
3 tablespoon Natvia
50 g Desiccated Coconut (2/3 cup)
75 g No added sugar Dark Chocolate
Coconut chips
Method
First prepare the chocolate coconut chunks: Melt the coconut oil and Natvia then stir in the desiccated coconut and spoon into a small lined container (any shape) and smooth out. Melt the dark chocolate and pour over to cover, then sprinkle with coconut chips. Chill in the fridge for 2 hours to set.
Preheat the oven to 180C and grease and line a loaf tin.
) Place the butter beans, milk, eggs and vanilla into a blender and blend until smooth.
Add in the flour, coconut, Natvia and baking powder and blend again until a smooth and slightly thick batter has formed.
Pour half of this into the loaf tin. Remove the chocolate coconut container and pop out, then roughly chop into pieces. Scatter over a generous amount to cover in a single layer.
Spoon over the remaining batter then sprinkle over the remaining coconut chocolate pieces. Add a few more coconut chips over the top then bake for 30-40 minutes (cover halfway with foil) until firmed up and a skewer comes out clean.
Leave to cool in the tin then pop out, drizzle over extra melted dark chocolate, cut into slices and enjoy!
| | | | | | |
| --- | --- | --- | --- | --- | --- |
| Carbs | Pro | Fats | Energy KJ | Calories | Serving size |
| 7.2g | 5.1g | 16.8g | 879kJ | 210 | 116g |