Chocolate Doughnuts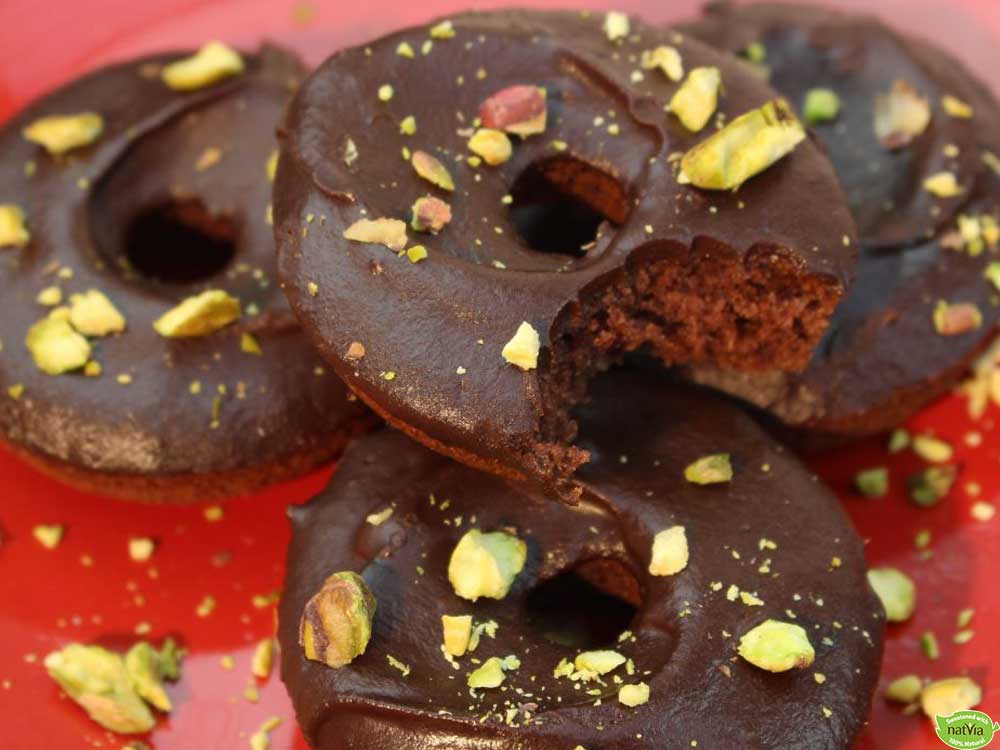 Ingredients
115 g Rice flour (3/4 cup)
125 g Almond milk (1/2 cup)
60 g Du Chocolat (1/3 cup)
60 g Natvia (1/3 cup)
0.5 teaspoon bicarb soda
0.5 teaspoon Baking powder (gluten free)
0.5 teaspoon salt
2 teaspoon Vanilla essence
1 teaspoon Vinegar
190 g Almond Milk (3/4 cup)
55 g Vegetable oil (1/4 cup)
Icing
170 g sugar free dark chocolate
60 g Almond Milk (1/4 cup)
55 g Coconut oil (1/4 cup)
1 teaspoon Vanilla
60 g Natvia (1/3 cup)
Method
Preheat oven to 190ºC and grease a doughnut pan.
Mix together flours, Du Chocolat, Natvia, baking powder, bicarb soda and salt. Add the vanilla essence, vinegar, almond milk and vegetable oil.
Spoon the batter into the doughnut pan and bake for 10-14 minutes or until they spring back when you touch them. Place on a wire rack to cool while you make the icing.
For the icing, add the chocolate, almond milk, coconut oil and vanilla to a heatproof bowl. Melt together over a saucepan of boiling water and add the Natvia. Stir until dissolved.
Dip the doughnuts into the icing and enjoy!
| | | | | | |
| --- | --- | --- | --- | --- | --- |
| Carb | Pro | Fats | Energy KJ | Calories | Serving size |
| 10.7g | 2.1g | 15.8g | 826 | 197 | 100g |