Coconut Cheesecake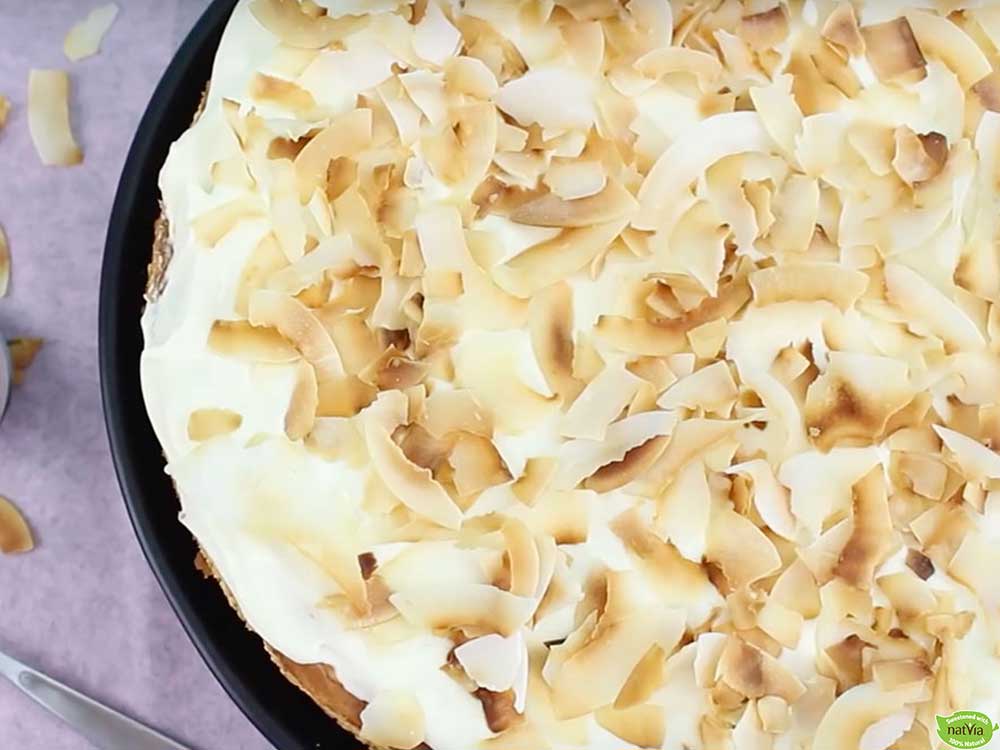 This recipe is a healthy coconut cheesecake dessert alternative made completely without sugar. Coconut Cheesecake Recipe by Natvia. Made with Natvia 100% Natural Sweetener! That's right there is no sugar used in any of our recipes! You can find more sugar-free recipes like this one and more over on our blog or check out Natvia's archive of dessert videos over at 
Healthy Treats!
Ingredients
1 cup Mixed Brazil & Macadamia Nuts
1 cup Shredded Coconut
3 tablespoon Natvia
0.25 cup Almond Meal
650 g Cream Cheese
0.5 teaspoon Vanilla Extract
0.66 cup Coconut Milk (Room Temp)
3 Eggs
0.25 cup Coconut Milk (Cold)
0.75 cup Whipping Cream
0.5 Vanilla Extract
2 tablespoon Natvia
0 Flaked Coconut (to garnish)
Method
Line a round springform pan with baking paper & preheat Oven to 160°C.
In a food processor, process the Brazil & Macadamia nuts until coarsely chopped.
Add 1 cup shredded coconut, 3 tbsp Natvia, and continue to process the ingredients.
Once processed, add the ingredients to a mixing bowl and add 1/4 cup almond meal, and 1/2 tsp Vanilla Extract.
Spread the mixture evenly in a springform pan and flatten the mixture out with a spoon.
Bake the compact rounded base in the oven for 12 - 14 minutes at 160°C.
Whilst the cake base is in the oven, beat 650g Cream Cheese in a large mixing bowl.
Once peaks and valleys begin to form, add 3/4 Cup Natvia, 1/2 tsp Vanilla Extract, and 2/3 cup coconut milk (at room temperature).
Continue to beat the mixture whilst also adding 3 eggs, one at a time.
Once evenly mixed together, set aside and take the cake base out of the oven. Pour the mixture on top of the warm cake base evenly.
Bake the cake now for 1hr 30mins - 45 mins at 150°C (Until the cake is slightly jiggly when shaken).
With the cake now in the oven for a while, it is time to make the topping. In a new bowl, beat 1/4 cup cold coconut milk in a new bowl until fluffy.
Add 3/4 cup whipping cream in a seperate bowl, and continually stir with a whisker whilst slowly adding the beaten coconut milk.
Add 1/2 tsp Vanilla Extract & 2 tbsp Natvia and continue to whisk until completely combined.
In a seperate saucepan, toast a large handful of coconut flakes to garnish over the top of the cake when ready.
Once the cake has finished in the oven, and is jiggly and golden browned on the top, spread the topping mixture evenly across the top of the cake and sprinkle the flaked coconut over the top and enjoy!
WATCH THE VIDEO
No nutritional info supplied