Easy ANZAC Biscuits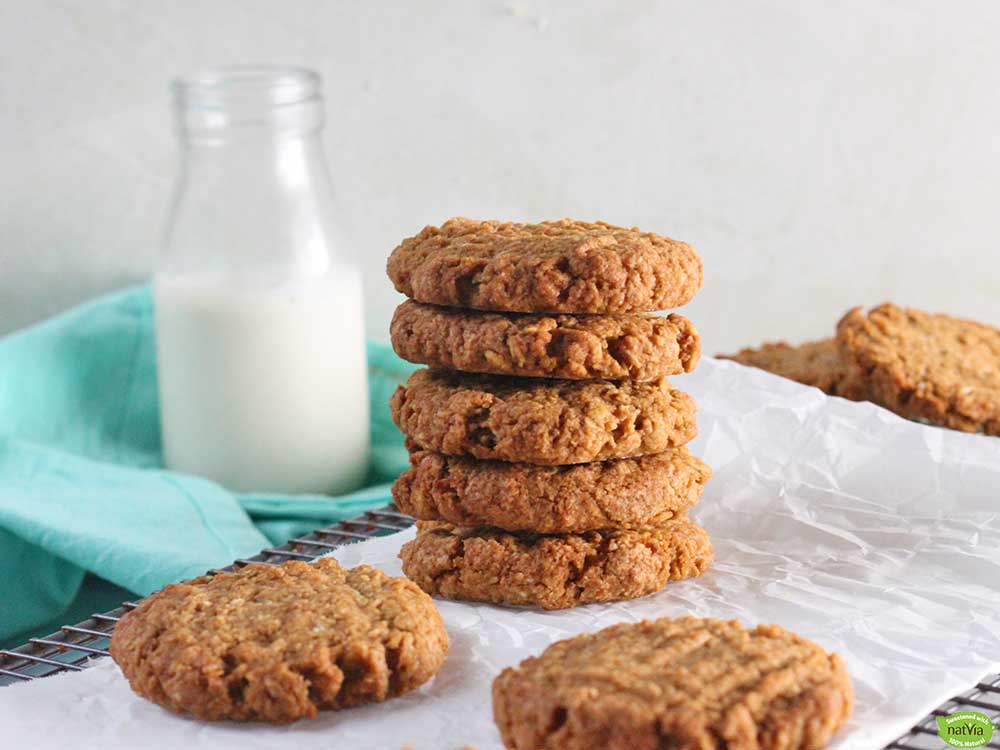 There's nothing more classic than a crispy, chewy ANZAC biscuit. Try them with a twist by using Natvia for a sugar-free treat! Liked this recipe? SAVE it to your collection. You can find more sugar-free recipes like this one and moreover on our Youtube at Healthy Treats.
Serves 18
Prep 10 minutes
Cook 18 minutes
Ingredients
90 g gluten free rolled oats
149 g Natvia Gold (3/4 cup)
60 g desiccated coconut (3/4 cup)
150 g gluten free plain flour
125 g unsalted butter (1/2 cup)
2 tablespoon Natvia Salty Caramel Topping
0.5 teaspoon bicarbonate of soda
3 tablespoon hot water
Method
Preheat oven to 160C (fan-forced oven) and line a baking tray with baking paper.
In a bowl, combine the flour, coconut, oats and Natvia.
In a saucepan over a medium heat, melt the butter and salty caramel sauce.
In a separate bowl combine the bicarb soda and hot water. Stir this into the butter mixture and then pour it all into the dry ingredients. Stir to combine.
Roll the mixture into golf ball size balls and place onto the prepared tray. Flatten the biscuits with the back of a fork to your desired size (the biscuits wont spread while cooking).
Bake for 15-18 minutes or until golden. Cool on the tray.
| | | | | | |
| --- | --- | --- | --- | --- | --- |
| Carbs | Pro | Fats | Energy KJ | Calories | Serving size |
| 10.4g | 1g | 8.4g | 521kj | 124 | 32g |