Chocolate Souffle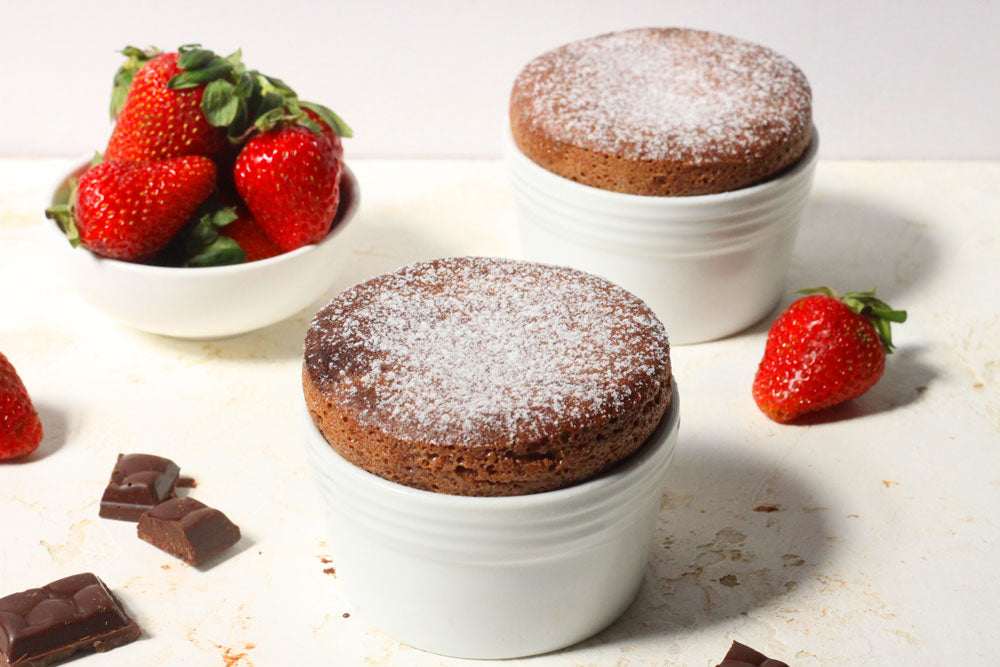 A quick chocolate recipe for your sweet, sweet Valentine! This Chocolate Soufflé is easy, quick to prepare, Keto, gluten-free, and diabetic-friendly so you can surprise your loved ones with a decadent Valentine's Day dessert. Liked this recipe? SAVE it to your collection. You can find more sugar-free recipes like this one and moreover on our Youtube at Healthy Treats.
Serves: 4
Prep Time: 15 Minutes
Cook/Chill: 15 Minutes
Ingredients
1 teaspoon Unsalted Butter, melted
4 tablespoon Natvia
125 mls Thickened Cream
60 g Natvia Dark Chocolate
2 Eggs, Separated
0.25 teaspoon Cream of Tartar
0.25 teaspoon Xantham Gum
Method
Preheat oven to 190C. Grease four 1-cup ramekins with butter and dust with 1 tbsp of Natvia. Set aside
In a small saucepan, combine the cream and 2 tablespoons of Natvia. Place over a medium heat. Bring to a simmer then whisk in the xanthan gum. Remove from the heat.
Break the chocolate up into small pieces and place into a heatproof bowl. Pour over the hot cream and stir until the chocolate has melted
In a separate bowl combine the egg whites, 1 tablespoon of Natvia and cream of tartar. Using a hand mixer, whisk the egg whites to stiff peaks.
Add the egg yolks to the chocolate mixture and whisk to combine.
Gently fold about ½ a cup of the egg whites into the chocolate to lighten it. Add the remaining egg whites and gently fold together
Spoon your mixture evenly into the prepared ramekins
Place the ramekins onto a baking tray and bake for 10-15 minutes. The soufflés are done when they have risen and have a slight wobble.
| | | | | | |
| --- | --- | --- | --- | --- | --- |
| Carbs | Pro | Fats | Energy KJ | Calories | Serving size |
| 4.7g | 5.4g | 20.1g | 882Kj | 210 | 68g |