Mini Bagels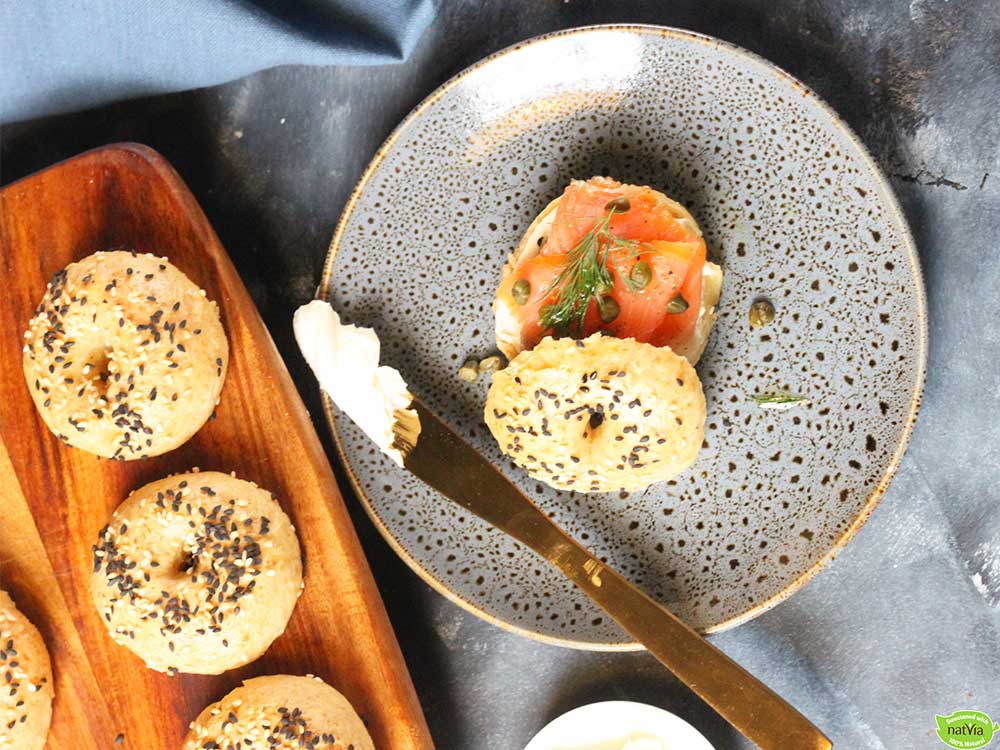 Easter Breakfast can be extra special with these delicious Mini Bagels with Cream Cheese spread and Smoked Salmon or Avocados for a vegetarian version. Liked this recipe? SAVE it to your collection. You can find more sugar-free recipes like this one and moreover on our Youtube at Healthy Treats.
Serves: 20
Prep Time: 1 Hour 35 Mins
Cook/Chill Time: 25 Minutes
Ingredients
4 teaspoon Natvia
560 mls Warm Water
1 tablespoon Yeast
560 g Gluten Free Plain Flour (4 cups) plus extra for kneading
0.5 teaspoon Xanthan Gum
3 tablespoon Psyllium Husk
2 teaspoon Gluten Free Baking Powder
1 teaspoon Salt
1 teaspoon Apple Cider Vinegar
125 g Butter, melted
750 mls Boiler Liquor - Water
2 tablespoon Natvia Sweetener
1 Bagel Topping - Egg White, lightly whisked
1 tablespoon Water
Sesame Seeds, poppy seeds, nigella seeds
Method
In a bowl combine the yeast, 2 tsp Natvia and the warm water. Cover and place in a warm area until frothy (around 5-10 minutes).
In a stand mixer, using the dough hook attachment place the flour, xanthan gum, 2 tsp Natvia, psyllium husk, baking powder and salt. Add the yeast mixture and on a low speed beat for 2 minutes
Add the melted butter and apple cider vinegar, beat on a medium speed for 4 minutes. The dough will still be quite sticky.
Transfer the dough to a heatproof bowl, cover and place in a warm area for 20 minutes.
Tip the dough onto a clean surface, if it is still sticky add more flour. You should be able to divide and roll the dough into 20 small balls without it sticking to your hands
Line a baking tray with baking paper. Press your finger through each ball to make a hole and place onto the prepared tray. Cover and set aside in a warm area for 10 minutes
Preheat the oven to 200C. In a small pot bring the water and 2 tbsp of Natvia to the boil; reduce the heat to a simmer
Drop bagels in 2 at a time and boil for 1 minute. Using a slotted spoon remove from the water and place back on the tray. Repeat with the remaining bagels. Set aside for 5 minutes to cool.
In a small bowl combine the egg white and water. Brush over the bagels and top with you choice of seeds.
Place in the oven for 20 minutes; increase the heat to 220C and bake for a further 5 minutes
Leave to cool on the baking tray
Topping Suggestions -Natvia fruit spreads , Avocado and feta, Smoked salmon and cream cheese, Nutritional information is per bagel with sesame seeds without toppings, If there are no warm areas in your house, set your oven to 40C and place the covered bowl in the oven to prove.
| | | | | | |
| --- | --- | --- | --- | --- | --- |
| Carbs | Pro | Fats | Energy KJ | Calories | Serving size |
| 25.4g | 1g | 5.4g | 651kj | 155 | 62g |