Berry Cheesecake Brownie Bites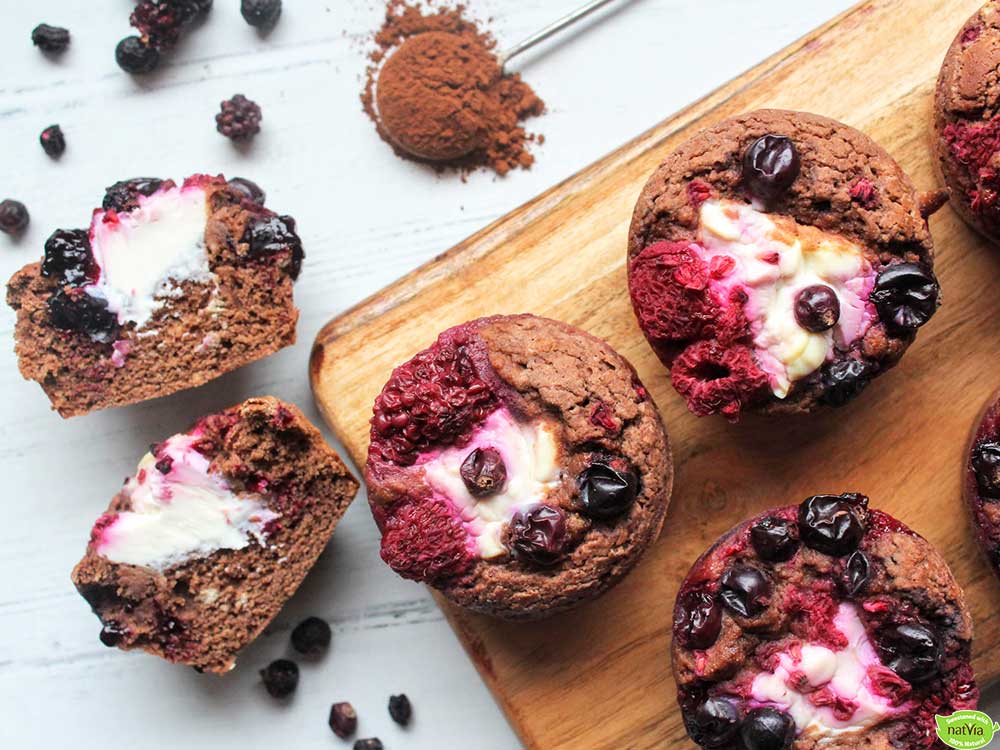 Step into spring with these scrumptious gluten-free and vegan Berry Cheesecake Brownie Bites. Whipped up in just 30 minutes - with no baking involved -  these low-sugar and diabetic-friendly treats are perfect for kids' lunch boxes. Liked this recipe? SAVE it to your collection. You can find more sugar-free recipes like this one and moreover on our Youtube at Healthy Treats.
Serves 6
Prep time 10 minutes
Cook/Chill 20 minutes
Ingredients
100 g almond flour
40 g cocoa powder
80 g Natvia Natural Sweetener (for the brownie)
1 teaspoon baking powder
330 mls milk of choice
2 tablespoon almond butter
1 teaspoon vanilla extract
6 teaspoon soft cheese (can be dairy-free)
2 tablespoon Natvia Natural Sweetener (for the cheesecake)
1 tablespoon GF flour
75 g frozen berries
Method
Preheat the oven to 170C and grease a 6-hole muffin tin (silicone is best).
Place the flour, cocoa powder, sweetener, baking powder, milk, almond butter and vanilla into a blender and whizz up until quite thick and smooth.
Spoon between the muffin cases to fill nearly to the top. Beat together the soft cheese, sweetener and flour then add a spoonful of the mixture into each one in the middle.
Top with some frozen berries then bake for 20 minutes until risen, golden and firm. Leave to cool then pop out and enjoy!
Nutrition tip: Use blueberries, cherries, or other berries for a tasty alternative.
No nutritional info supplied