Paleo Vanilla Cupcakes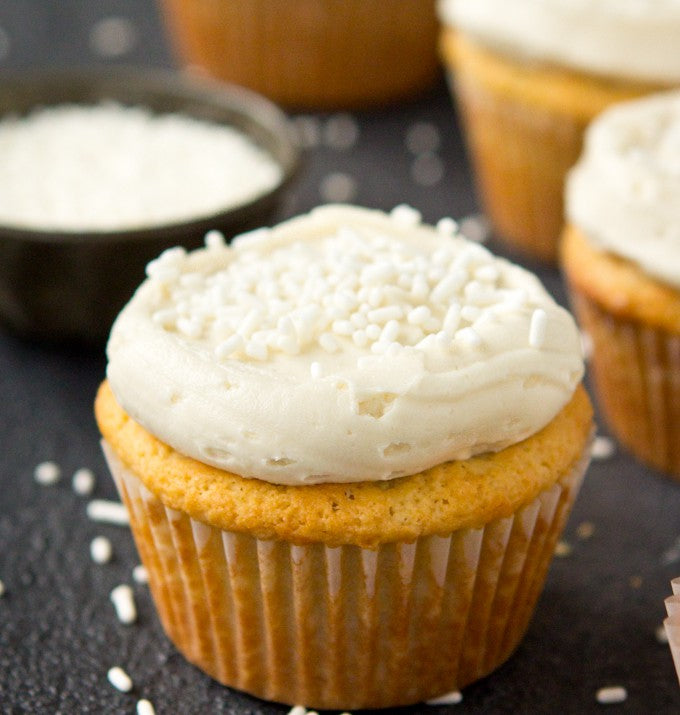 You can find more sugar-free recipes like this one and more over on our blog or check out Natvia's archive of dessert videos over at 
Healthy Treats!
Ingredients
2 cup almond flour
0.25 cup tapioca starch
0.25 cup Natvia
0.5 teaspoon baking soda
0.25 teaspoon fine sea salt
2 eggs, at room temperature
0.5 cup plain low fat yogurt or fat free greek yogurt
0.25 cup honey or maple syrup
3 teaspoon vanilla extract
0 Vanilla frosting (of choice)
Method
Preheat the oven to 190C and line a 12-cup cupcake tin with papers. Set aside.
In a medium mixing bowl, whisk together the almond flour, tapioca starch, stevia, baking soda and salt. Set aside.
In a large mixing bowl, whisk the eggs, then whisk in the yogurt, honey/maple syrup and vanilla. Add the dry ingredients (almond flour mixture) and whisk until fully combined and no clumps remain.
Divide the batter between the 12 compartments in the prepared cupcake pan.
Put the pan in the oven, close the oven door and immediately lower the temperature to 160C. Bake for 18-22 minutes until the cupcakes are domed and firm to the touch.
Allow to cool for 10-15 minutes in the pan before transferring to a wire rack to cool completely before frosting and decorating.
No nutritional info supplied