Sweet Peach Crumble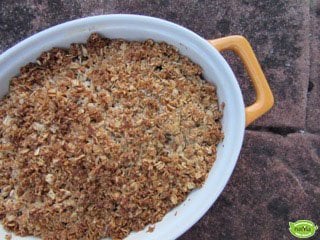 Recipe by Amy at
Fitness Forster
You can find more sugar-free recipes like this one and more over on our blog or check out Natvia's collection of delicious and sugar-free dessert videos over at 
Healthy Treats!
Ingredients
2 Cups (260g) Oats 3 Medium Peaches 3 Tbsp. Natvia 1 Tsp. Vanilla Extract 4 Tsp. Coconut Oil 2 Tbsp. Honey
Method
Pre-heat oven to 170 degrees C.
Cut peaches into medium slices and place in a medium oven dish.
Combine all oats and Natvia in a bowl and mix together- add the honey and vanilla and mix in. Add the coconut oil (make sure it's not melted) and rub into the mixture using your fingers- it will form a crumble like texture.
Pour the crumble topping onto the peaches and sprinkle over a little more Natvia.
Pop in the oven for 45-50 mins until the peaches have softened and the crumble topping has browned a little. Serve with some ice-cream or yoghurt for a delicious dessert.
No nutritional info supplied