Raw Carrot Cake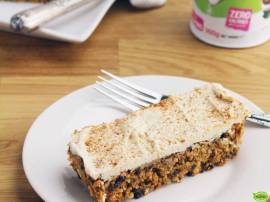 This is a MUST try treat! If you've never indulged in a raw dessert treat before then this is the perfect recipe to get you started. Combining beautiful nutty flavours like walnuts, cashews and sunflower seeds with the mouthwatering Lemon Cashew Icing, this raw, vegan Carrot Cake is nothing but delicious! Not just that but this Raw Carrot Cake is also the perfect lunch box dessert treat. Clear of all refined sugars and full of nutrition, this will soon become one of your favourite go-to dessert creations! You can find more sugar-free recipes like this one and more over on our blog or check out Natvia's collection of delicious and sugar-free dessert videos over at 
Healthy Treats!
Ingredients
Cake
2 carrots, grated 1 cup prunes ¾ cup walnuts ¼ cup cashews ½ cup sunflower seeds 1 teaspoon Vanilla extract 1 cup desiccated coconut 1 tbs Natvia Pinch of salt 1 teaspoon ground cinnamon
Lemon Cashew Icing
1 cup raw cashews 2 tbs coconut cream ¼ cup coconut oil 1 tbs lemon juice 1 tsp Natvia Ground cinnamon, for sprinkling
Method
Combine all the ingredients for the cake in a food processor. Pulse until the mixture is fine and just starts to come together. If you pinch some between your fingers it should hold together.
Pack firmly into a baking paper lined a 20cmx15cm square cake tin, smooth the top and refrigerate.
To make the icing soak the cashews for 15 minutes – 1 hour, in hot water. Drain and rinse. Combine the soaked cashews, coconut cream, coconut oil, lemon juice and Natvia in a blender or food processor and blitz until smooth. Smooth over the top of the cake and sprinkle over the extra cinnamon. Refrigerate for 1 hour.
| | | | |
| --- | --- | --- | --- |
| Carbs | Pro | Fat | Energy Kj |
| 3.1 | 4.4 | 18.2 | 830 |