Pocky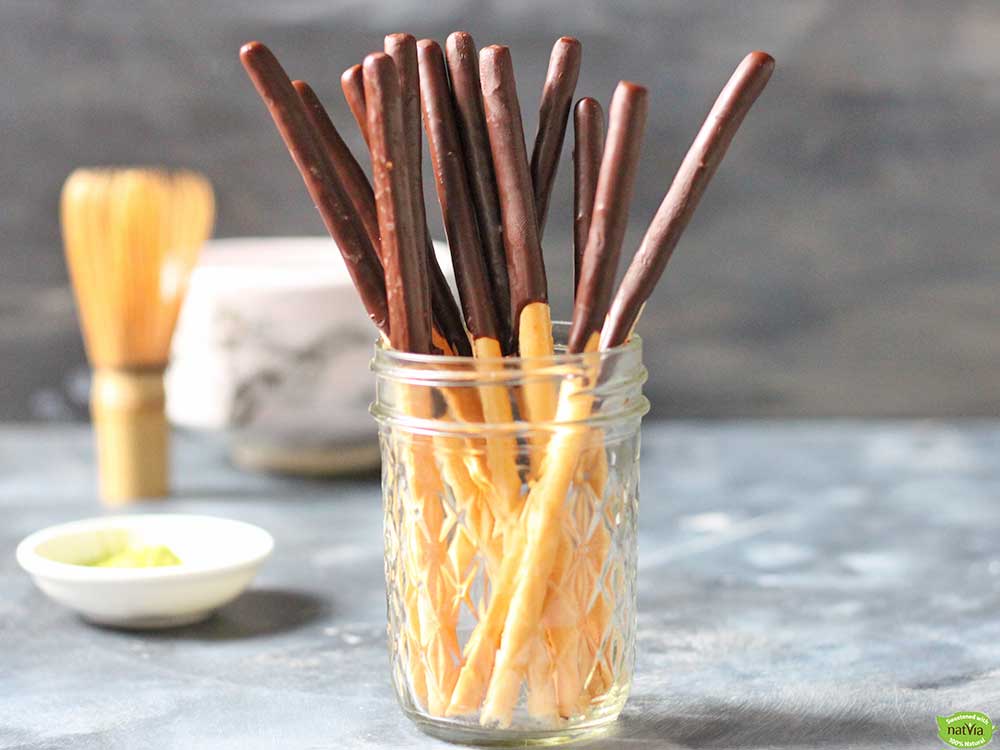 These crunchy delights taste just as good as the original and are super fun to make! Our version is gluten-free and low carb too! Liked this recipe? SAVE it to your collection. You can find more sugar-free recipes like this one and moreover on our Youtube at Healthy Treats.
Makes 30 Pocky
Prep 35 minutes
Cook 20 minutes
Rest 30 minutes
Ingredients
150 g gluten free plain flour
2 teaspoon Natvia
Pinch of salt
50 g unsalted butter, chopped
3 tablespoon milk
89 g Natvia Dark Chocolate
Method
Preheat oven to 180C and line a baking tray with baking paper.
Add the dry ingredients to a food processor and pulse to combine.
dd the butter and pulse to resemble breadcrumbs.
Add the milk and pulse again until a dough is formed.
Wrap the dough in cling film and leave to rest for 30 minutes.
Once rested, take small pieces of dough and roll into balls before rolling into lengths of around 12cm.
Place the rolled dough onto the prepared tray. Bake for 18-20 minutes.
Once cooked and cooled, melt the chocolate and dip approximately 1/3 of the stick into the melted chocolate. Place back on the prepared tray to set.
| | | | | | |
| --- | --- | --- | --- | --- | --- |
| Carbs | Pro | Fats | Energy KJ | Calories | Serving size |
| 4.8g | 0.4g | 2.7g | 182kj | 43 | 11g |