APPLE, RAISIN & GRANOLA PROTEIN BAKED OATS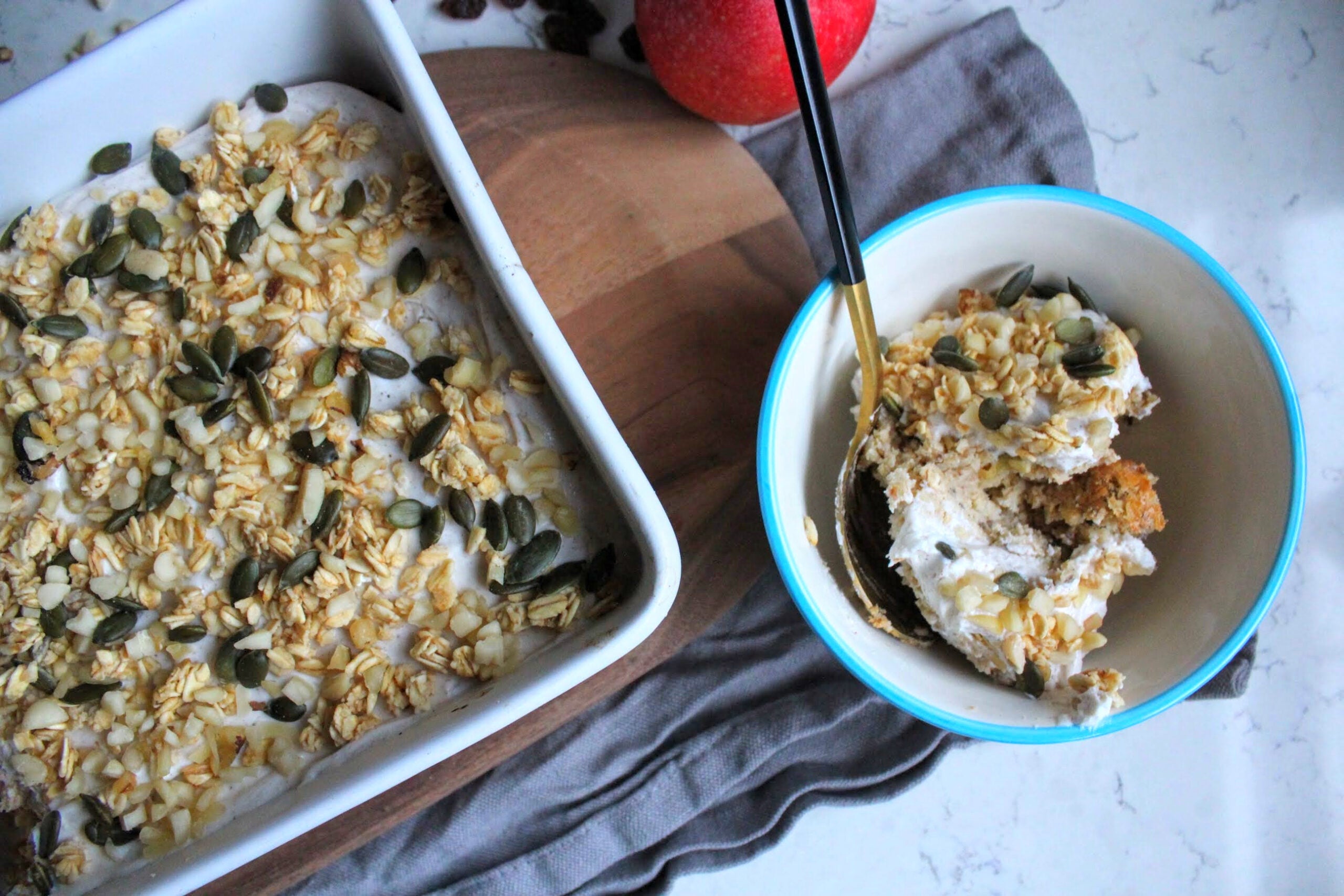 Take your morning oatmeal to the next level with this perfect Apple, Raisin and Granola Protein Baked Oats! This warm and comforting recipe is perfect way to start the day or for an afternoon treat, not only does it take amazing it has no added sugars!
SERVES: 6
PREP: 15-20 minutes
COOK: 30 minutes
Ingredients
200g apple puree
180g oats
100g Natvia natural sweetener
1 teaspoon cinnamon
1 teaspoon ginger
1 teaspoon baking powder
2 tablespoons chia seeds
500ml oat milk
1 teaspoon vanilla extract
75g raisins or sultanas
1 scoop vegan vanilla protein powder (optional)
For the topping -
150g soft cheese (can be dairy-free), Quark or coconut yogurt
1 scoop vegan vanilla protein powder (optional)
4 tablespoons Natvia natural sweetener
Pumpkin seeds, granola and chopped nuts to decorate
Method
Mix together all of the oat ingredients then pour into a greased baking dish and spread out well. Bake at 180C for 30 minutes until golden, then leave to cool.
Meanwhile beat together the soft cheese, protein powder and sweetener and chill in the fridge until needed.
When the baked oats have cooled, spread the mixture over to cover. Sprinkle with nuts, granola and seeds - then dig in and enjoy!
| | | | | | |
| --- | --- | --- | --- | --- | --- |
| Carbs | Pro | Fats | Energy KJ | Calories | Serving size |
| | | | | | |