Roast Cauliflower and Dukkah Egg Salad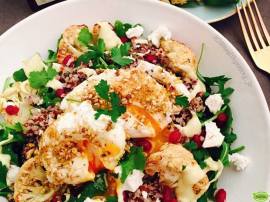 You can find more sugar-free recipes like this one and more over on our blog or check out Natvia's archive of dessert videos over at 
Healthy Treats!
Ingredients
1 each head of cauliflower cut into thin florets
50 g Extra Virgin olive oil (1/4 cup)
0.5 tablespoon cumin
0.4 teaspoon each cinnamon, ginger & cayenne Salt & pepper
Lemon Tahini Sauce
40 g Tahini
60 mls Lemon Juice
1 teaspoon Natvia
20 g avocado oil
Dukkah Poached eggs
8 each Eggs
as needed Pistachio Dukkah
Method
Add oil and spices to a plastic bag and mix.
Add in cauliflower and coat evenly.
Spread out on an oven tray covered with baking paper and cook for 20mins at 200C turning once.
Put in a small container and shake well.
Poach eggs as normal and coat gently in @tableofplenty Pistachio Dukkah.
Add a large handful of rocket and baby spinach leaves to a bowl. Top with 1/2 cup cooked quinoa, a sprinkle of feta and pomegranate, and some of the roast cauliflower.
Add the Dukkah eggs on top and drizzle with the lemon tahini sauce. Enjoy!
| | | | | | |
| --- | --- | --- | --- | --- | --- |
| Carb | Pro | Fats | Energy KJ | Calories | Serving size |
| 2.2g | 15.6g | 27.0g | 1320 | 315 | 170g |