Summer Pudding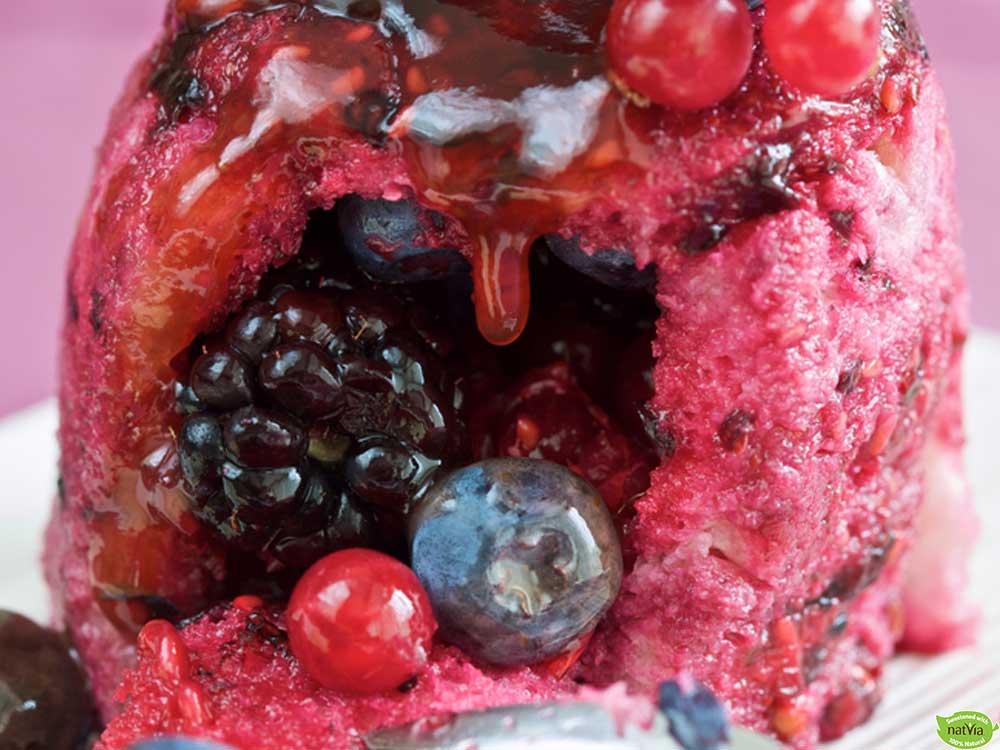 You can find more sugar-free recipes like this one and more over on our blog or check out Natvia's archive of dessert videos over at 
Healthy Treats!
Ingredients
2 cups/250g/8.8 oz raspberries 2 cups/250g/8.8 oz blueberries 2 cups/250g/8.8 oz blackberries 2 cups/250g/8.8 oz strawberries 2/3 cup/120g/4.2 oz  Natvia 1 tsp vanilla extract 12 slices of day-old bread
Method
In a large sauce pan place 3/4 of each of the berries, along with the Natvia and vanilla extract. Allow to cook down until the juices release and a good sauce is formed. Set aside.
Cut out 6 circles of bread the size of the bottom of your moulds and brush with the berry sauce. Cut 6 more slices out the size of the opening of the moulds and brush with berry sauce as well.
Cut out strips of bread to place along the inside of the molds to create a wall. Brush with berry sauce.
Place the pieces for the bottom and sides into the moulds, and divide the remaining berries among them. Pour a little of the sauce into each one.
Place the top onto the molds and refrigerator for 6 hours or over night.
Unmold the puddings onto plates and serve with leftover berry sauce.
Note: While this recipe makes 6 individual puddings, it can also be made in a pudding basin or other larger dish for one large pudding - you may need to adjust the amount of bread you use.
No nutritional info supplied