Vanilla Berry Ice Lollies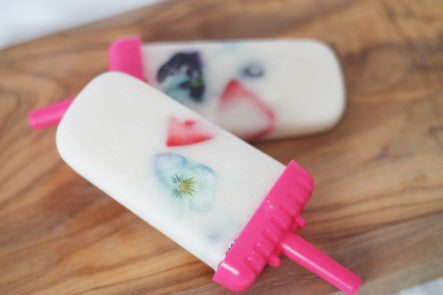 You can find more sugar-free recipes like this one and more over on our blog or check out Natvia's archive of dessert videos over at 
Healthy Treats!
Ingredients
1 tub (125g) vanilla coconut yoghurt, or plain coconut yoghurt with 1 vanilla pod scraped in
0.5 cup almond milk
8 blueberries, squished
2 strawberries, cut in thin slices
0.5 teaspoon Natvia, or to taste for sweetness
Method
Mix the yoghurt, almond milk and Natvia in a bowl.
Pour the mixture into the lolly moulds and put them in the freezer for 15 minutes without adding the lolly stick.
They should have firmed up just a little bit and now push the fruit down into them and space them out.
Add the lolly sticks and put back into the freezer for 4 hours.
Remove and enjoy!
No nutritional info supplied