VEGAN MANGO SORBET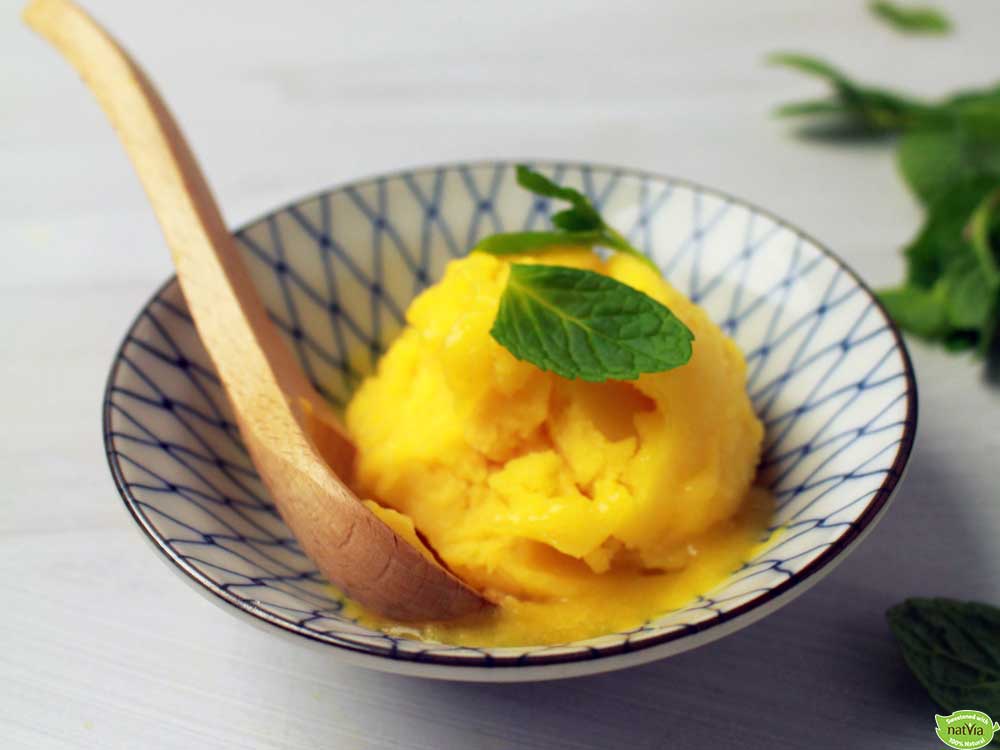 Recipe by Lauren at
Healthy n' Happy
Cool off with this deliciously fruity and vegan Mango Sorbet. As the weather begins to heat up, most of us will find ourselves reaching for that sugar-filled ice cream, well now you don't have to. With just 4 ingredients you can indulge on this sugar-free, tropical treat!
Ingredients
1 cup (200mL) water
½ cup (95g) Natvia
520g fresh mango flesh, about 4 small mangoes
2 tablespoons (30mL) lime juice
Method
Begin by adding the water and Natvia to a small saucepan over low heat. Stir until the sweetener has dissolved and then bring the mixture to the boil to cook for 1 minute. Remove from the heat and allow to chill in the fridge for a minimum of 3-4 hours, preferably overnight.
Meanwhile, add the mango and lime juice to a blender and blend until smooth. Pour into a bowl and chill in the fridge until the sweetened water is cold.
Mix the pureed mango with the chilled sweetened water and then pour into your ice cream maker and churn according to the manufacturer's instructions for 30-40 minutes, or until smooth, creamy and looks similar to a soft serve.
If you don't own an ice cream machine, pour the mixture into a freezer safe plastic tub, cover and place in the freezer. Every ½ hour to an hour, give the sorbet a good stir so it freezes evenly and incorporates air. Continue this until a soft serve consistency is reached.
Notes: Store covered in the freezer for up to 4 weeks.
No nutritional info supplied