Chocolate & Blueberry Mousse Pots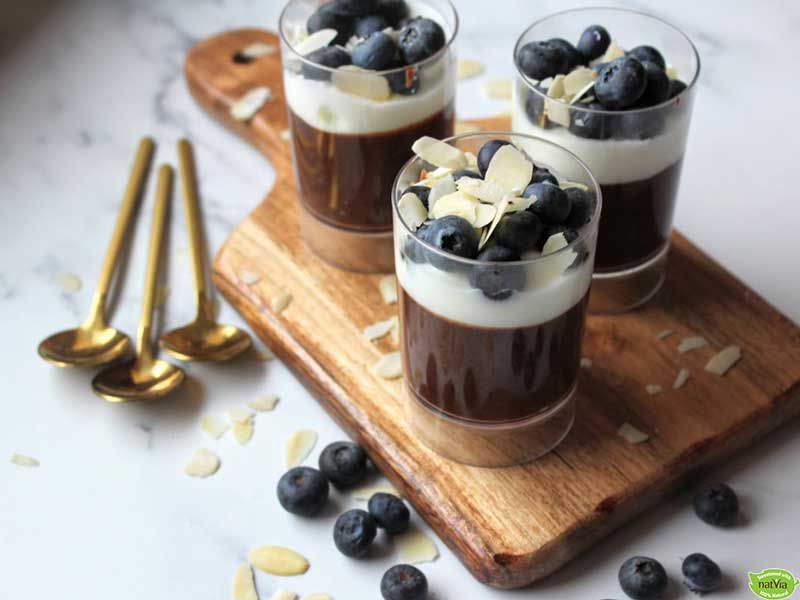 Need a quick to make snack? These easy to make mousse pots are a perfect sweet treat! This recipe is vegan, dairy and gluten free! Liked this recipe? SAVE it to your collection. You can find more sugar-free recipes like this one and moreover on our Youtube at Healthy Treats.
Serves 4
Prep 10 minutes
Cook/Chill 1 hour chilling
Ingredients
Aquafaba (liquid) from 1 can chickpeas
100 g Natvia dark baking chocolate
1 tablespoon Coconut oil
40 g Natvia natural sweetener
1 teaspoon Vanilla extract
To decorate:
Coconut yoghurt
Blueberries
Method
First place the aquafaba in a large bowl and use an electric whisk to whisk for 4-5 minutes until doubled in size and firm peaks form.
Gently melt the chocolate and coconut oil then set aside to cool a little. Pour into the bowl along with the Natvia and vanilla and carefully whisk again to fold in.
Divide between 4 small individual dessert glasses or pots to fill ¾ of the way up. Chill for 1 hour.
Add a dollop of coconut yogurt on top of each and sprinkle blueberries over. Enjoy now or keep chilled for a few more hours then enjoy.
No nutritional info supplied