Chocolate Covered Strawberry Smoothie Bowls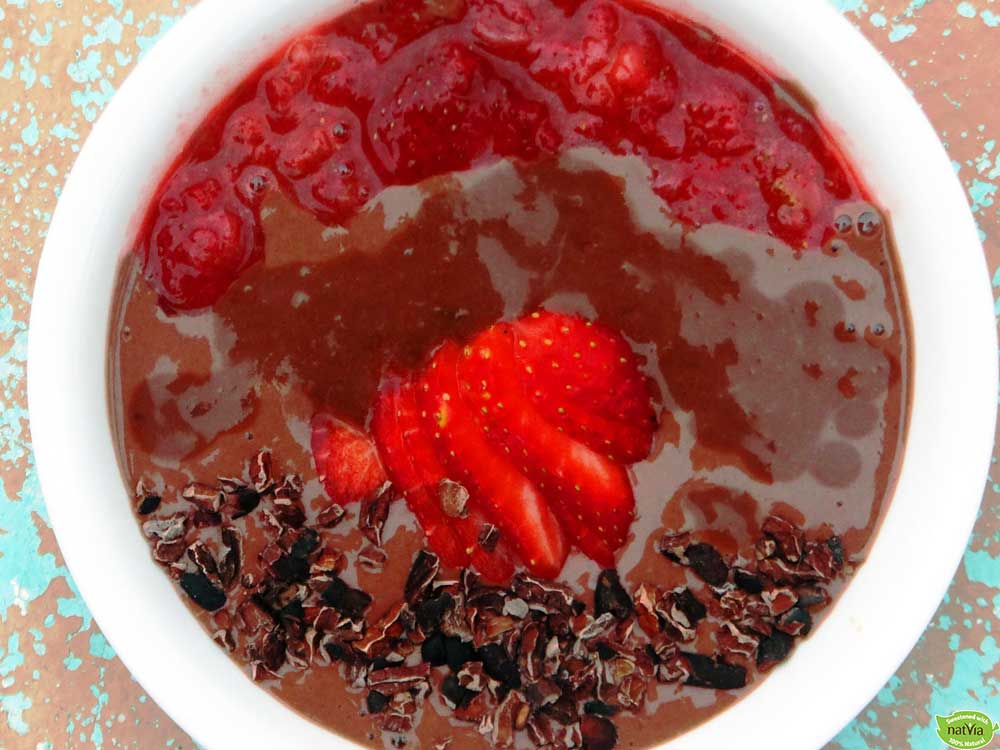 Smoothie bowls are easy and healthy way to start your morning or ease you into your afternoon. Adding a scoop of protein makes this bowl even more wholesome. These make a wonderful breakfast that you can top with cereal if you wish. Other lovely additions to this bowl would be nut butter, raw nuts, hemp seeds, coconut flakes, or dehydrated fruit. You can find more sugar-free recipes like this one and more over on our blog or check out Natvia's archive of dessert videos over at 
Healthy Treats!
Ingredients
1 frozen banana, cut into chunks
0.5 cup unsweetened almond milk
2 tablespoon cacao, cocoa, or carob powder
0.5 tablespoon Natvia
0 (Optional: 1 scoop of chocolate vegan protein powder)
2 large strawberries
1 tablespoon cacao nibs
Method
Strawberry sauce: Blend 1/4 cup of fresh or frozen and defrosted strawberries with 1/2 tbsp Natvia.
Chocolate Sauce: Soften 1 large medjool date in 2 tbsp warm water. Blend with 1 tbsp cacao powder and 1 medjool date.
Blend banana with almond milk, cacao, and Natvia. Pour smoothie into a bowl. Arrange strawberry slices and cacao nibs on top. Drizzle with strawberry and chocolate sauces.
No nutritional info supplied