Orange & Peach Traybake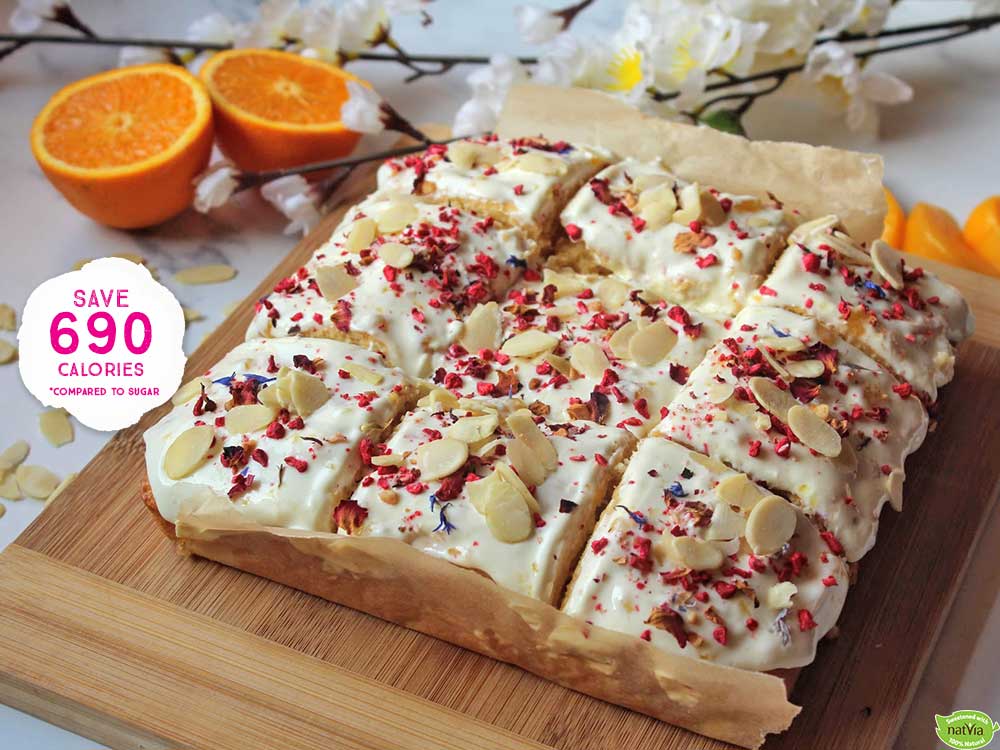 Recipe by
SpamellaB
This orange and peach traybake, with succulent fruit and perfectly golden sponge takes just fifteen minutes to prepare for the oven! Liked this recipe? SAVE it to your collection. You can find more sugar-free recipes like this one and more over on our Youtube at Healthy Treats.
Serves: 9-12
Prep: 15 minutes
Cook: 30 minutes
Ingredients
FOR THE CAKE:
150 g Gluten-Free Flour
120 g Natvia Natural Sweetener
1 teaspoon Baking Powder
250 mls Milk of Choice
2 Eggs or Flax Eggs
50 mls Oil
Zest and Juice of 2 Oranges
0.5 Can Peaches, Chopped
For The Topping
200 g Soft Cheese, Quark or Dairy-Free Soft Cheese
4 tablespoon Natvia Natural Sweetener
0.5 Orange (Zest & Juice)
Freeze-Dried Berries for Decoration
Method
Preheat the oven to 180C and grease and line a 9x9in baking tin.
Mix together the flour, Natvia and baking powder in a bowl.
Whisk together the milk, eggs, oil and orange zest and juice and pour into the dry ingredients. Mix well to combine then stir in the peaches.
Spoon into the tin and spread out evenly Bake for 25-30 minutes until firmed up then leave to cool.
Meanwhile beat together the soft cheese/Quark with the Natvia and orange zest and juice and chill until the cake has cooled.
Spread the topping over and sprinkle the berries over. Cut into 9-12 pieces and enjoy!
| | | | | | |
| --- | --- | --- | --- | --- | --- |
| Carbs | Pro | Fats | Energy KJ | Calories | Serving size |
| 14.7g | 4.0g | 6.9g | 594kJ | 142 | 103.54g |