Apple Cinnamon Faux-tmeal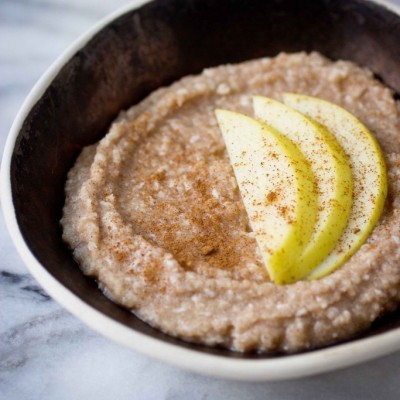 Gluten free//Egg free You can find more sugar-free recipes like this one and more over on our blog or check out Natvia's archive of dessert videos over at 
Healthy Treats!
Ingredients
1 1/2 tbsp/10g/0.3 oz
coconut flour
1 1/2 tbsp/10g/0.3 oz
Shredded unsweetened coconut
pinch
salt
1 tsp
Natvia or Norbu
1/2 tsp
Cinnamon
1/4 tsp
Vanilla Extract
1/4 cup/60ml/2 oz
Milk of choice
1/2 cup/125g/4 oz
Unsweetened apple sauce
Method
In a microwave-safe bowl, mix together the coconut flour, shredded coconut, salt, sweetener and cinnamon.
Add the vanilla and the milk, stir briefly, and then add the applesauce and stir vigorously until combined. It may be a little thinner consistency than you'd like, but don't add more milk yet.
Microwave on high for 45-60 seconds. Stir and microwave another 30-60 seconds until it reaches your desired temperature. If it has thickened too much, stir in 1-2 Tablespoons additional milk until it thins out to your preferred consistency. Taste, and adjust sweetener and cinnamon if desired.
Consume immediately and enjoy!
No nutritional info supplied