Vanilla Cheesecake Pots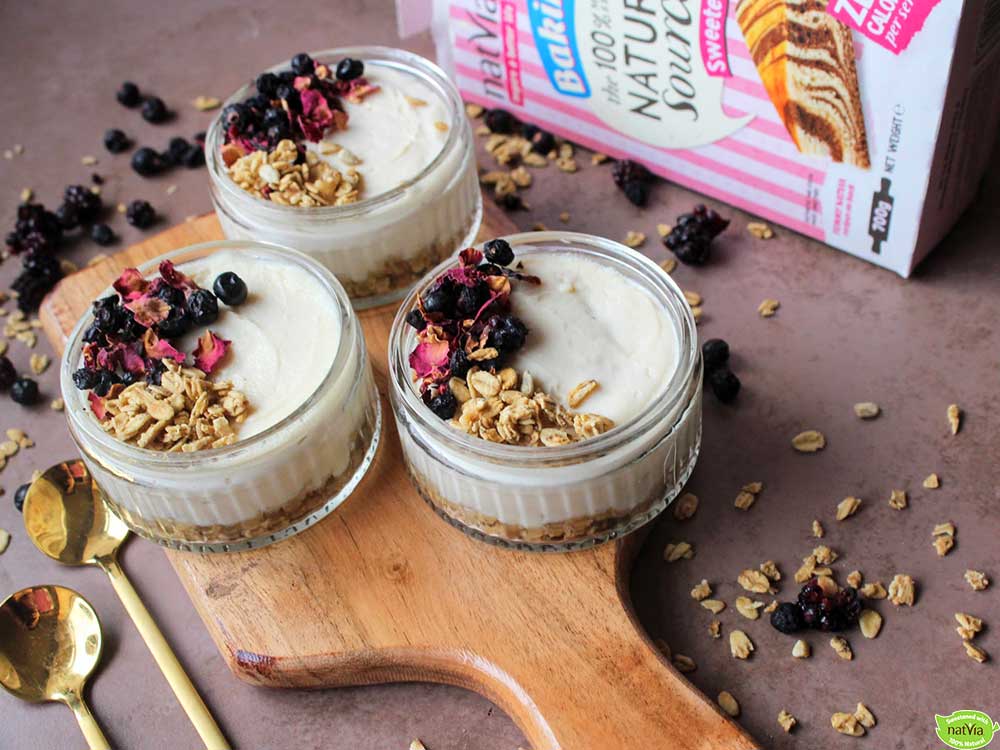 Vegan Vanilla Cheesecake in a pot!! This Low Sugar, Low Carb, and Diabetic-Friendly recipe can be whipped up in under 30 minutes and chilled overnight for a delightful breakfast or a late-night dessert! Liked this recipe? SAVE it to your collection. You can find more sugar-free recipes like this one and moreover on our Youtube at Healthy Treats.
Serves: 4
Prep Time: 15 Minutes
Cook/Chill: 2 Hours Chilling Time
Ingredients
8 Oatcakes
2 tablespoon Coconut Oil, Melted
2 tablespoon Smooth Nut Butter
2 tablespoon Natvia Natural Sweetener
350 g Silken Tofu
2 tablespoon Coconut Oil
40 g No Added Sugar White Chocolate
4 tablespoon Natvia Natural Sweetener
1 teaspoon Vanilla Extract
Dried berries and granola, to decorate (Nutritional Information doesn't represent the information of this ingredient)
Method
First make the base: Place the oatcakes in a blender and whizz up until broken down. Add in the nut butter, melted oil and Natvia and blend again.
Divide between 4 small ramekin dishes to fill 1⁄3 and put down well. Chill while you make the filling.
Next gently melt the coconut oil and white chocolate. Place the silken tofu into a blender with the Natvia and vanilla and pour in the melted chocolate. Blend well.
Spoon this over the top of each base to fill the top and smooth out. Chill for 2 hours. Top with dried berries and granola - then enjoy!